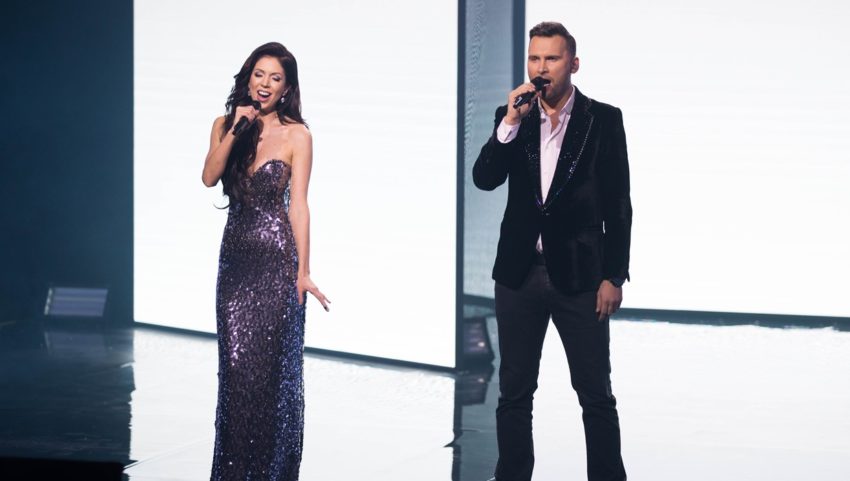 Tonight saw the final of Eesti Laul where ten contestants competed to represent Estonia at Eurovision. Koit Toome and Laura were awarded the grand winners by the Jury and Televotes and will get to sing the song Verona in Kyiv.
After two semi-finals with 20 competing entries, tonight saw the final of Eesti Laul, the Estonian song selection show for the Eurovision Song Contest. 10 Finalists battled for the big prize of representing their country in Kyiv, Ukraine.
The Songs
First up is pretty girl Liis Lemsalu with her song Keep Running. The verses sounds a bit like a fast version of Taylor Swift's Style. The song then kicks into an up tempo pop song. The staging is rather simple, nothing super exciting other than smoke, lights and pink glittery backdrop. Overall a good performance but the song is a bit forgettable.
Koit Toome & Laura – Verona
Next up is Verona by Koit Toome and Laura. This is one of my favourite songs from Eesti Laul this year, it has a very catchy hook to it that makes you want to sing along. Koit and Laura's vocals are on point, the staging is somewhat interesting but there is room for improvements. One thing that needs to change for sure is Laura's dress it's so gaudy, something simpler would be better.
Whohaux & Karl-Jristjan feat. Maian – Have You Now
Third song up is Have You Now. This is a very contemporary sounding song. The odd sounds aren't quite my cup of tea. The odd outfits, the weird walking around on stage. It just seems not very well thought out.
Up next is Lenna with her song Slingshot. This song is more ballady than the previous ones. She starts off with five dancers around her making star-like dancing and movements. The song is pretty decent overall, it's quite typical pop. What is rather distracting is the choreography. Again it just doesn't feel like it's bringing anything to the performance. The one highlight near the end of the song is when Lenna get's thrown by bungee cables through the arena. Not much happens other than her going back and forth but it adds something to the Slingshot theme.
Next is Daniel Levi with All I need. The performance starts off with some very interesting lighting visuals. So far this has one of the most interesting look. The song is also very nice and fresh sounding. Halfway through the perfomrance Daniel is joined by his band and the whole arena is filled with lazer lights.
Elina Born was representing Estonia in 2015 with Stig Rästa. Their song Goodbye To Yesterday managed to reach 7th place. She is back with an upbeat funky song. Elina looks absolutely beautiful and is here to entertain us. She sings her song really well. What is probably missing to this performance are dancers. It's too high energy to just have one performer on stage.
The one song in Estonian is up next. Ivo represented Eurovision back in 1996 with the song Kaelakee Hääl which finished 5th place. His song this year is quite pleasant. I'm not exactly sure how well it would do at Eurovision, but I can see why the Estonian public may like this.
Next up is Rasmus with This Love, which sounds quite similar to Hovig's Gravity. A rock'n'roll infused song. The performance is quite good and the visuals quite simple but work well with the song.
Ariadne is up next with her song Feel Me Now. This is a fun electro-pop sound. She sings the song quite well. This song however risks being a little bit too basic and repetitive. During the middle eight part of the song it even feels like Ariadne is bored. Again maybe some dancers could help here.
Having not heard or seen most of the songs performed tonight, I was a little bit confused when I saw Kerli enter the arena at the beginning of the show as she was followed by her dancers acting out like,well, animals. Watching this performance I understand more. In term of staging and choreography, this is on point. There is enough happening to keep viewers captivated. In terms of the song, it's really missing some sort of hook. The crowd however really seemed to like her.
The Show
The show started off with an opening by Jüri Pootsmann who represented Estonia last year with his song Play. He did an Estonian song first followed by his Eurovision entry.
In between each performance, the broadcasting showed some comedic clips which as a foreign viewers unfortunately completely went over my head. Apart from the one where they actually spoke English of course.
After all the songs were performed, the public were asked to vote and three songs moved to the Super Final. From there, the public were once again asked to vote for the winner.
The Results
Super Final:
Kerli
Rasmus Rändvee
Koit Toome & Laura
Winner:
The winner was eventually announced to be Koit Toome & Laura with Verona!