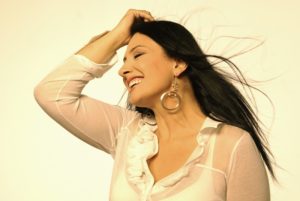 Veteran singer Kaliopi from F.Y.R. Macedonia has released a new video called Mojot Dom, which means 'My Home' in her native language. Will it become a hit all over the Balkans?
One of the most popular singers of F.Y.R. Macedonia, Kaliopi, released her latest single Mojot Dom. She shared a photo in which she held a paper saying '5 days' on her Facebook page. She also wrote: '5 days until the new single' in the native language of F.Y.R. Macedonia, Serbian and English. The fans had started to wait five days ago. She did it again four days later: '1 day'. And today, she has released her single on her Facebook page with lyrics and the names of the people who contributed, as Sergej did last week. It looks like ex-Yugoslavian people take care to credit each other' s work.
'Just close your eyes and hug me strongly, don't give up, this love is your home' is the key phrase. It is expected to be a huge hit all over the Balkans, according to Kaliopi.
Mojot Dom lyrics
Samo zatvori oci
I silno gusni me
Ne predavaj se
Ova ljubov tvoj e dom
Nikoj od tebe ne vara
Solzi za kaenje
Ni vaka od vnatre
Ni na jave, ni na son
Kako sekoja bolka sto boli
Kako zdivot tvoj sto me gori
Sega jasno priznaj mi za se
Kako sekoja laga
Što tle
Ne e sramota slab da si, ne e
Ti ne si samo gostin
Za mene
[Chorus]
Vo mojot dom (In my home)
Mojot dom (My home)
Ima vrati milion (There are a millon doors)
No samo edna od niv (But only one of them)
Te vodi do mene (Guides you to me)
I rajski zvon
Ko od son
Zlatno edno za tebe
Sega otvori vrata
I tamu najdi me
'Ajde zatvori oci
I ilno gusni me
Ne predavaj se
Ova ljubov tvoj e dom
Kaliopi represented F.Y.R. Macedonia in the Eurovision Song Contest 2012 in Baku with the song Crno i Belo (Black and White). Her song was placed 13th in the grand final achieving the second highest ranking ever for her country. She also tried to represent her country in 1996 but she didn't qualify from the pre-qualification round and F.Y.R. Macedonia had to subsequently wait for their debut until 1998.