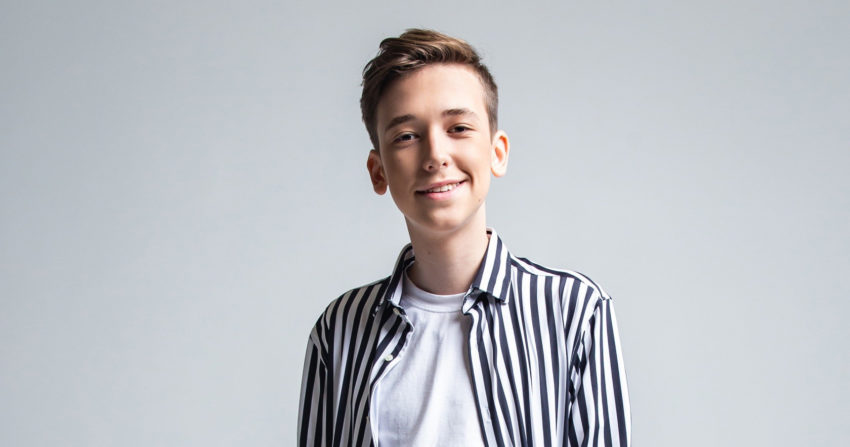 This year marks Ukraine's 15th participation in the Junior Eurovision Song Contest. They have won only once. Can Oleksandr Balabanov double that this year with his mid tempo song 'Vidkryvai (Open Up)'?
Ukrainian broadcaster UA:PBC had an open submission for Junior Eurovision Song Contest from the 5th of August till the 25th of August 2020. The finalists were determined by a series of online votes. During the selection period, one of the hopefulls Maksym Tkachuk was disqualified after it was discovered that he had performed in the Autonomous Republic of Crimea after it's annexation by the Russian Federation.
The national final took place on the 12th of September 2020 and among 11 finalists, Oleksandr Balabanov won with jury votes. The jury consisted of Jamala (winner of Eurovision Song Contest 2016), Alina Pash, Taras Topolya, Ruslana Kazipova, Dmytro Shurov, Larysa Klyuyevska, Timur Miroshnychenko (one of the hosts of Eurovision Song Contest 2017) and Lyubov Morozova.
Oleksandr Balabanov was born on the 5th of July 2006. He started playing music at the age of 4 attending a children's folk choir. At the age of 8, he started to practice pop vocals and started his music education. He says Michael Jackson and the British band Jungle are his role models. He is the first male singer to represent his country in the Junior Eurovision Song Contest in 10 years. Oleksandr has also tried for Junior in 2018 and 2019 with his songs We Are The Children Of The Earth and Power In You. He has released the final version of his entry on the 13th of October 2020.
Vidkryvai – Opinions from fans
In order to find out what Eurovision fans think of this Ukrainian Junior Eurovision entry, we asked our Eurovision Fan Panel. It includes team members as well as fans from all over the world.
🇩🇰 Charlotte C. – I can't decide if I like his way of singing or not. It's too unusual for me to be sure about that. The song however, I know I actually do like. It sounds like something Ukraine could also have sent to the Eurovision Song Contest – perhaps with Mélovin singing it. I am not convinced it will appeal to children though, and if it doesn't do well, that might be the reason. But it will be interesting to see how he will perform it, perhaps with a bit of Moonwalking like his big idol Michael Jackson.
🇷🇴 Doina A. – In Vidkryvai (Open up), Oleksandr Balabanov for Ukraine shows so much strength and desire "to find the golden fleece of the Argonaut". The song begins in a slowly, even sad tone and then, in an instant, the melodic line changes and it becomes enjoyable, danceable, full of joy. The increasing rhythm, simple lyrics, a flowing melody, all of these made Vidkryvai a remarkable song.
🇨🇴 🇫🇮 Alvaro S. – I did not feel specially moved by this song. I can appreciate that Ukraine sent a very nice music video to appreciate and that they tried to interchange between Ukrainian and English at some parts but for me this is a forgettable song
.
🇹🇷 Gunec G. – First of all I like the song. Young Oleksandr is really talented and doing his work professionally. I don't know maybe I exaggerate but I think young people should perform pieces that suit their age.
🇵🇹 Linete A. – It's not one of my favourites for this year's Junior Eurovision. He's got a great voice and the lyrics are nice, but I don't find it very junior appropriate. It doesn't really stick in your mind and I find it a bit uninteresting. Ukraine has had better songs in the past.
🇸🇪 Jill R. – I don´t really like to give children bad reviews, but unfortunately it won´t all be good this time. I really dislike Vidkryvai and I don't think it deserves to be in the top this year (but Oleksandr isn't to take the full blame since he had adult help writing it). Oleksandr has a very nice voice in the verses, but he should avoid singing in higher pitch like he does in the refrain. It really hurts my ears and is out of tune. With a decent song he probably could have done much better since he is a pretty good performer and sings with passion.
🇳🇱 🇩🇰 Wouter V. – This genuinely sounds like a song I'd listen to, also if I weren't forced to do so for this article. And that leaves me torn between thinking that actually good music is totally ok at Junior Eurovision, and the realisation that, that moves it further away from a show where children have fun and sing their song. Either way, a good song can never be a bad thing.
🇬🇧 Michael O. – This little lad has quite the voice, and I actually like this one best of this years Junior entries. Ukraine always take this so seriously, but I think we have a future adult Eurovision entrant here.
🇨🇿 Josef S. – Being one of the oldest artists this year, and one of the only two boys, Oleksandr is actually the closest to the adult Eurovision. I judge that from his style and song. Even though he is a good singer, I don't like that song so much. Actually it would be one of my least favourite songs this year. Ukrainian language is a good to listen to, though.
In the video below, you can listen to and enjoy Oleksandr Balabanov's entry Vidkryvai. Below the video you can read more about Ukraine at the Junior Eurovision Song Contest.
Ukraine at the Junior Eurovision Song Contest
Ukraine has debuted at the Junior Eurovision Song Contest in 2006 with Nazar Slyusarchuk's Khlopchyk Rock-n-roll. They have started off with a 58 points which led to their 9th placing.
In 2012, Ukraine won with Nebo performed by Anastasiya Petryk after receiving 138 points. They have received their highest votes in 2018 when Darina Krasnovetska got 182 points with her Say Love and became 4th.
Last year Sophia Ivanko sang The Spirit of Music for her country and received 59 points which gave her a 15th place.