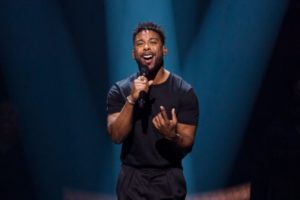 Tonight was the grand final of Melodifestivalen, the Swedish national selection show for the Eurovision Song Contest. After 4 semi-finals as well as a second chance episode, the final 12 competitors battled for a chance to represent Sweden at the Eurovision Song Contest.
Every year, Sweden puts on quite a show. Other countries try to replicate or emulate a similar format but the Swedes just always know how to put on a great show for their national selection. This year, 28 acts competed through 4 semi-finals. Each week, the top 2 moved to the final while the next 2 would be selected as a second chance round. Tonight, a total of 12 acts performed their songs in the hopes of representing Sweden at the Eurovision Song Contest in Tel Aviv, Israel, next may.
Among the competing entries in the grand final, two of them have appeared on a Eurovision stage before. Anna Bergendahl took part in the 2010 contest with her song This Is My Life. The entry failed to qualify to the grand final. The band Arvingarna also took part previously, all the way back in 1993 with the song Eloise which finished 7th place.
The songs
Jon Henrik Fjällgren – Norrsken (Goeksegh)
First up is Jon Henrik with the song Norrsken (Goeksegh) . The song is a mixture of traditional Swedish Sami influence and mordern sounds. Jon Henrik, who was originally born in Colombia but adopted by Sami parents at a young age has been using influence of the Sami sounds in all three of his competing entries at the contest so far. His previous two songs Jag är fri (Manne leam frijje) and En värld full av strider (Eatneme gusnie jeenh dåaroeh) both made it to the finals of 2015 and 2017 respectively.
Lisa Ajax – Torn
Up next is Lisa Ajax. This is also Lisa's third attempt at Melodifestivalen as she took part in 2016 with her song My Heart Wants Me Dead and in 2017 with I Don't Give A. Both songs made it to the grand final. Torn is an emotional ballad brought to life by Lisa's incredible vocals. The simplistic staging also makes this a stand out.
Mohombi – Hello
Third on is Mohombi who is also not a first timer at Melodifestivalen as he took part with the group Avalon in 2005. Mohombi has also had a fairly popular career in America with collaborations with artists such as Pitbull and Nicki Minaj. The staging for his song Hello is rather similar to Heroes from 2015 with a projection screen dancing with him.
Lina Hedlund – Victorious
Next up is Lina with Victorious. Once again, a competitor with experience at the contest. Lina is best known as a member of the band Alcazar. They've had many Melodifestivalen entries but Lina was part of three of them. In 2009 with Stay the Night, in 2010 with Headlines as well as in 2014 with Blame It On the Disco. Her solo entry is certainly less disco than what we know her for, but is a high energy dance pop tune. The staging is simple but effective.
Bishara – On My Own
Next up is the second youngest contestant this year, Bishara at 16 years old. This is Bishara's first entry with a song co-written by Benjamin Ingrosso, On My Own. Bishara is quite adorable, and brings a strong performance for such a young singer, but one can't help but think he may need a few more years to grow to handle something like Eurovision. The song itself is also quite nice but makes me wonder if a performer like him can deliver a message like a broken heart at such a young age.
Anna Bergendahl – Ashes to Ashes
Up next is Anna with Ashes to Ashes. Anna has the unfortunate record of being the only Swedish entry to miss qualification at the Eurovision Song Contest. Her entry this year is much stronger however. The vibe still has a country vibe as her 2010 entry did but this time she looks like a popstar in the veins of Carrie Underwood or Taylor Swift. The song is catchy but the staging is a bit confusing to me. Her outfit is quite nice but it clashes with the forest background look.
Nano – Chasing Rivers
Halfway through the show, next is Nano with Chasing Rivers. His first participation was back in 2017 with his song Hold On. The song has a pretty strong chorus and the performance is cut with shots of Nano as well as a Nano look-a-like kid. I don't particularly think this one is better than his 2017 entry but the song is catchy.
Hanna Ferm & LIAMOO – Hold You
The next song is Hanna Ferm and LIAMOO. All I can really say to begin with is, wow are they both very attractive people! Their song Hold You however isn't quite as attractive in my opinion. The duet is rather dull, the song itself doesn't have much of a hook too. Perhaps I am missing something. The staging is cute but also doesn't have much special with drapes attached to a metal fixture flying up with fans.
Malou Prytz – I Do Me
We next have Malou the actual youngest contestant this year! Interestingly she seems a lot more confident onstage than Bishara. Her song is young and fresh and works for her. The staging is also quote cute. I am not sure if it should truly win the contest but it is definitely a strong current pop song. I am hoping she continues her career and comes back to Melodifestivalen as she certainly has potential.
John Lundvik – Too Late For Love
Here he is, the favourite to win as of this morning. John Lundvik is a returning artist as he made the final last year with his song My Turn. Interestingly, John actually already has a song competing at the Eurovision Song Contest as he's the composer for Bigger Than Me, the United Kindom's entry this year. Too Late For Love is a big gospel-like song with big voices. John is on point and delivers on stage while the crowd cheers.
Wiktoria – Not With Me
Up next is another artist at her 3rd entry. Wiktoria took part in 2016 with Save Me as well as in 2017 with As I Lay Me Down. This time she is presenting us a power ballad. The staging is rather elaborate with a full shower pouring around her mid song to eventually make it rain on her by the end. Wiktoria is a strong vocalist and the song itself is pretty good but it's also rather typical and doesn't bring much new.
Arvingarna – I Do
We finish the show with Arvingarna. This isn't their first time here either. They took part in the 1993 Eurovision Song Contest with their song Eloise. The song I Do is considered dansband which is a style inspired by country, pop and rock n roll. This is one of those songs that is literally made for the Swedish public. I can't really imagine something like this doing anything at all at Eurovision.
The show
The show started off with last year's Melodifestivalen winner Benjamin Ingrosso singing his song Tror du att han bryr sig with Felix Sandman. He then performed a short version of Lionel Ritchie's All Night Long as the hosts and performers made their way to the green room out of a van.
After Anna had performed, the wonderful Lynda Woodruff made a return to Melodifestivalen. For those won don't know, performer Sarah Dawn Finer plays a character of a British spokeswoman for the European Broadcasting Union. The genius of her comedy is how she's not particularly knowledgeable on the Eurovision or Melodifestivalen history, often pronouncing names of countries of cities wrong and making absurd mistakes like confusing Austria with Australia or being unable to pronounce Azerbaijan.
After all the songs were performed a special performance of Dance You Off was presented by the Melodifestivalen dance troop. The choreography seemed to invoke the way technology and cell phones affect our lives. An interesting parallel to Portugal's song this year Telemoveis.
Between the jury votes and the public votes we were gifted with a Charlotte Perrelli performance of Take Me To Your Heaven, the song that won the last time Israel hosted the contest. Dana International also made an appearance and performed her hit Diva. They then came together to perform their brand new collaboration called Diva to Diva.
The result
The winner of Melodifestivalen 2019 will be decided by a combination of expert juries from 8 countries competing at this year's Eurovision as well as a Swedish public vote.
After the international juries voted, the top 3 was:
John Lundvik -96 points
Nano –  54 points
Hanna & LIAMOO –
The Swedish public then voted for their favourite songs.
The winner of the 2019 Melodifestivalen is John Lundvik with Too Late For Love