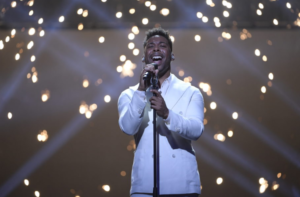 It was hard to predict the result in first heat of Melodifestivalen where the voters did what Christer Björkman wouldn't do, reject Kamferdrops. At the end, four of tonight's songs are still in the run to represent Sweden in Lisbon.

Two direct spots in the final of Melodifestivalen 2018 and two second chances. That's what is on stake in each of the four preliminary heats. Tonight, the first one took place. It offered a good variety of songs, a mix of well known established names and those hoping for this to be their big break-through – and some songwriters who have tried it all before.
Straight to the final went John Lundvik and Benjamin Ingrosso.
Up for a second chance are Rainada and Sigrid Bernson.
Kamferdrops faced disqualification
Today, the news hit that the song Solen Lever Kvar Hos Dig performed in tonight's heat by Norwegian Kamferdrops actually broke the rules about it not having been performed or published before EBU's September 2017 deadline. Swedish media wrote how the song, although performed by another artist, had been available at MySpace and YouTube for eight years, and on several occasions been performed at various events.
It's a clear break of SVT's rules, and should it win Melodifestivalen and be submitted to the Eurovision Song Contest, also of EBU's rules. Christer Björkman first talked about that the song might be in a greyzone, if it was a third part like the record company who gave it to the other artist eight years ago, and that the songwriters and Kamferdrops were unaware of it, and as such didn't intend to break the rules.
After looking into it, SVT came to the conclusion that the first singer was a demo singer and that he alone was responsible for spreading the song. As nor the current singer nor the songwriter took part in spreading the song, it will not be disqualified.
Anna Book was in 2016 disqualified as another artist had taken part with it, in another language, in the Moldovan selection two years prior. Without reaching the TV shows, the song was only available online.
In 2011, Anders Fernette was disqualified as the songwriter had previously made the song available on MySpace.
This time, Swedish broadcaster SVT, is extremely proud to have Kamferdrops taking part. Whether or not that played a part in the decision not to disqualify her, we can only speculate about. It seems quite obvious that Eurovision Song Contest's Reference Group would have disqualified the song as they don't bend the rules nearly as much as Christer does. Did the Swedes really dislike her performance that much, or did they perhaps also protest against Christer's decision?
Anyway, let's take a closer look at tonight's first heat of Melodifestivalen 2018:
The songs
1. Sigrid Bernson – Patrick Swayze (Andrej Kamnik, Josefin Glenmark, Peg Parnevik, Sigrid Bernson)
First up was Sigrid Bernson who was first joined by one male dancer, then eventually by four dancers on this up-tempo pop song; two male and two female. Sigrid is casually in short denim shorts, a short white top and a yellow jacket, the dancers are in black and yellow. If you are in doubt, she looks like your neighbour's high school daughter. 
2. John Lundvik – My Turn (Anna-Klara Folin, John Lundvik, Jonas Thander)
We continue with John Lundvik who sings a ballad how he ain't gonna miss that it is his turn now. He is all alone on a dark stage, with rather discreet lightning. Dressed in a white suit, and a spotlight shining like a sun directly on him, he certainly can be seen though. He starts out at a piano, and gets up during the song. A curtain of pyrotechnics are added at the end of the song similar to what the likes of both Emmelie de Forest and Anja have used at the Eurovision Song Contest.
3. Renaida – All The Feels (Laurell Barker, Jon Hällgren, Peter Barringer, Lukas Hällgren)
Partly alone on stage, and partly joined by six male dancers, this energetic song certainly is a contrast to John's ballad. Ranaida is dressed in black and orange, which are also the two colours in her hair, while her dancers are all in orange. Orange is the new black, or what? Even her songwriters are dressed in orange.
4. Edward Blom – Livet På En Pinne (Edward Blom, Thomas G:son, Stefan Brunzell, Kent Olsson)
And now to something completely different. Edward starts alone on stage, but is eventually joined by four dancers dressed up as grapevines, cheese, cake and a lobster! It is quirky, colourful and it leaves the viewers wondering whether to laugh or cry, but one thing is sure, it stands out – and it makes you realise that Edward doesn't take everything too serious. Pictures of champagne and a sour cake is shown on screen while Edward himself dance around with a gigantic fork. At the end of the show, the dancers transformed to four tables with waitresses serving champagne.
5. Kikki Danielsson – Osby Tennessee (Sulo Karlsson, Kikki Danielsson)
Previous Eurovision winner Kikki is back. Forget Norway's La' Det Swinge as now she takes you on a trip to the States on this country ballad. She is joined by a band of six, and a nice, comfortable atmosphere is set with Kikki is wearing a white "cowboy" jacket to further set the mood of the song. She starts out "alone", with the band hidden, until she joins them and sit on a chair in front of them. At the end of the song she gets up again turning the back to the audience.
6. Kamferdrops – Solen Lever Kvar Hos Dig (Herbert Trus, Danne Attlerud, Martin Klaman, Krstoffer Tømmerbakke, Erik Smaaland, Kamferdrops)
Get ready for a pink show! She is wearing her colourful unicorn mask, which has become her signature thing. She starts out laying down on the stage, gets up and we see four pink trees. A non-epic saxophone player and a dancer joined her on stage. Later we see an illusionist show where her legs are separated from her torso, while the saxophone is on fire. Suddenly there are five of her at the end of the song, and she found herself among the audience! An LSD trip gone wrong?
7. Benjamin Ingrosso – Dance You Off (Benjamin Ingrosso, MAG, Louis Schoorl, K Nita)
If you miss some disco, this is the entry for you. Benjamin is dressed in black trousers, and a black sparkling jacket.  Several times, it appears like he wants to take off the jacket, but for some reason it stays on during the entire show. Hang on, Michael Jackson just called, he wants his moves back. Several elements appear to be highly inspired by Don't Stop 'Til You Get Enough.
The show
Melodifestivalen's first heat kicked off at 20:00 and lasted one and a half hour. Host of the show was David Lindgren. He has taken part three times in the competition so he knows what it is like to be one of the nervous participants waiting to find out if their song was good enough.
The show kicked off with a group of dancers in black and white sports clothes with the text Mello (slang for Melodifestivalen, EDT.) on it. After a while, the host comes out, surrounded by the dancers he sings the song One Together.
Fan Freddy was introduced in the beginning of the show. A fan dressed in a glitter jacket. We saw him later on in green room, and later he tried to take over the host role with his "Puss cam". We'll probably see him again in future episodes.
Ebbot was interval act interpreting the well known schlager song Sånt är Livet from 1961.
The result
In usual Melodifestivalen style two rounds of voting took place. After first round, two songs were eliminated as they finished 6th and 7th. After the second round, it was time to find the two direct spots to the final and the two who gets a second chance, and who ended up on the sad 5th place just outside the fun.
| | |
| --- | --- |
| Result | Act |
| Straight to the final | John Lundvik |
| Straight to the final | Benjamin Ingrosso |
| To Second Chance round | Renaida |
| To Second Chance round | Sigrid Bernson |
| 5th place | Edward Blom |
| 6th place | Kamferdrops |
| 7th place | Kikki Danielsson |
Impressive recent success
With a total of six victories, Sweden is moving in on record holding Ireland's seven wins. With Sweden's success in recent years, and Ireland's lack there of, it seems just a matter of time before the two countries will be equal.
In the past four years, the country has not finished worst than a 5th place. That's impressive, and it just gets better if you look aside Robin Stjernberg's 14th position in 2013. The two years before that, the country came 1st and 3rd. Yep, pressure is on for whoever wins the 2018 Melodifestivalen final, which will be held on the 10th of March.
While waiting for their 2018 entry to be selected, let's take a look at Robin Bengtsson's I Can't Go On from last year. This time you get it in a special Full Stage View where you can see how the backdrop, the colours, and the lights complimented the song.