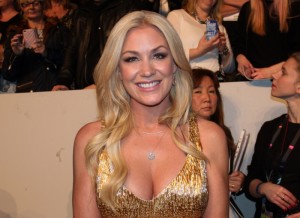 Martin Almgren and Jessica Andersson are still very much in the run to represent Sweden at this year's Eurovision Song Contest. In a semi-final whose outcome it was hard to predict, they went direct to the final of Melodifestivalen.

Do you remember Siw Malmkvist who represented Sweden at the 1960 Eurovision Song Contest, and Germany at the 1969 contest? A special tribute was paid to her during tonight's heat, which included a beautiful performance from Linnea Henriksson.
First heat in Sweden gave John Lundvik and Benjamin Ingrosso each a place in the Swedish final to be held on the 10th of March. They will be joined by Samir & Viktor and LIAMOO who earned their final spots in the second heat.
Tonight, 7 more acts were fighting to join these four, or at least to get a second chance. It was hard to predict who would be the lucky ones, but in the end we got the following result:
Straight to the final: Martin Almgren and Jessica Andersson.
To Second Chance heat: Moncho and Mendez.
In 5th place came Kalle Moraeus & Orsa Spelmän.
Despite her song and performance having quite a big similarity to Loreen's Eurphoria Dotter finished 6th, while Barbi Escobar failed to impress the viewers even less and ended last.
The participants
Most well known name tonight, in Eurovision circles, were Jessica Andersson, who represented Sweden at the 2003 Eurovision Song Contest as a part of the duo Fame.
Martin Almgren – A Bitter Lullaby
Barbi Escobar – Stark
Moncho – Cuba Libre
Jessica Andersson – Party Voice
Kalle Moraeus & Orsa Spelmän – Min Dröm (My dream)
Dotter – Cry
Mendez – Everyday
Veteran songwriter Thomas G:son, with 11 Eurovision entries on his CV, had written both Dotter's entry, and song five performed by Kalle Moraeus & Orsa Spelmän. Singer and songwriter Fredrik Kempe, who we find on five former Eurovision entries, were behind Jessica's Party Voice.
2017 Danish final's third place Johanna Beijbom has been encouraging her followers on Instagram to vote for her friend Jessica.
Sweden's six Eurovision victories
With seven wins, Ireland is still the most winning country, but since they last won in 1996, Sweden have won three times, and with a total of six victories, they are catching up.
It was ABBA who with their Waterloo in 1974 gave Sweden their first victory. Ten years, later the three Herreys brothers repeated it, and from that on, Sweden become a country which often scored great results, and only rarely did bad.
Carola won a close competition in 1991, and Charlotte Nilsson (Now Perrelli) secured Sweden's 4th victory eight years later.
Only once, after the 2004 introduction of semi-finals, have Sweden failed to reach the final. That was in 2010. After that, the country scored one success after the other. Since 2011, they only ended outside top 5 once!
Robin Bengtsson represented Sweden last year. He came 5th with the song I Can't Go On. In the video below you can take a look at our special multicam edition from rehearsals of that entry: