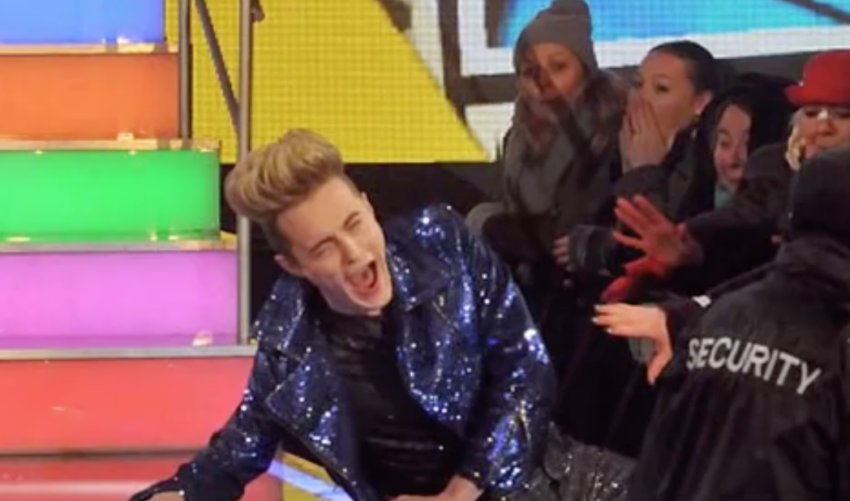 It has been a rocky start for Jedward who entered the Celebrity Big Brother house on Friday. The crowd were split as the boys received a mixture of boos and cheers from the audience. The duo has been granted immunity which fellow housemates aren't too happy about.
The twins were forcibly split after their explosive entry as Edward slipped off the stage and injured his back. At first this didn't seem to effect him and along with his brother John, entered the house with an energetic performance of their song Hologram. However, within 30 minutes of his entrance, Edward was taken to the hospital for tests. He was later declared well enough returned back to the house after a couple of hours. This left John to mingle with the other housemates on his own where he broke the twin code by admitting to Heidi Pratt that he enjoys his own company – awkward!
The pair have been granted immunity from the first public vote due to their late entrance to the house. Former Strictly Come Dancing pro James Jordan didn't appear happy with this news as he exclaimed "What? Why are they immune?" The nominations are expected to be broadcast in tonight's show. Actor James Cosmo is the first contestant up for evicted following a killer nomination from Angie Best and Jamie O'Hara. It is not yet known whether Jedward will be allowed to nominate their fellow housemates.
Despite the Irish twins showing some maturity in the opening episodes they are still already pushing some of their fellow contestants to breaking point. American actress Jasmine Waltz expressed that she was "mentally exhausted" by their contestant chatter. They have kept themselves amused by mummifying their housemates in toilet roll and dancing in front of the bathroom mirrors wearing nothing but a towel.
You can see the moment where Jedward burst into the Celebrity Big Brother house below.
Further reading: