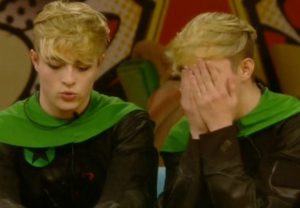 Jedward have been put up for eviction for the third time in a row. They have continued to push the other housemates buttons since their arrival. The two time Eurovision contestants received the most nominations from their fellow housemates. Which means that they are again at risk of being evicted in tonight's show.
For last week's shopping task, all of the housemates had to dress up as Superheroes or Superhero sidekicks. When they heard Superhero music, they all had to run into the garden to do their best superhero pose. Meanwhile each Superhero's sidekick had to shower them with compliments. Jedward's sidekick was former glamour model Nicola McClean. Unfortunately for Nicola, Jedward kept her busy doing chores for them while they chilled in the snug.
The pair loved their Superhero costumes because the colour green reminds them of Ireland which they described as "The country of Shamrock and Enya".
This weekend saw another nomination twist. The superheroes in one room and the sidekicks in another. In each room was a red buzzer which if pressed, would give immunity to the person who pressed it first, but it would mean that the other person would be up for eviction. If neither person pressed the button then both people would be immune from the public vote. Each superhero and their sidekick had to stand at the buzzer at the same time. Unfortunately for Jedward, their sidekick Nicola McClean pressed the buzzer first. This meant that she was immune but also that Jedward would then face eviction for the second time in a row. Fortunately for them, it was Chloe Ferry who was evicted.
Since they were made safe from eviction, the boys have been accused of eating too much food and leaving too little for their fellow housemates. They have also risked the whole house being punished by discussing nominations with other housemates.
Last night saw the housemates nominate each other in the diary room. These were later shown to the housemates. Jedward were nominated more times than any other housemates. They are up for eviction with Nicola McClean, Kim Woodbury, Jamie O'Hara, Jessica Cunningham, Stacey Francis and Spedi. However, despite being nominated, it feels fairly unlikely the boys will be evicted tonight.
More about Jedward in the Big Brother house