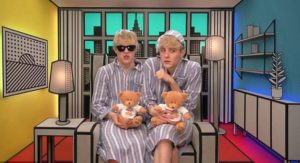 After a week of unusually quiet behavior from Jedward, they have now been involved in their first row. Last night they clashed with footballer Jamie O'Hara who branded the former double Eurovision participants as the "biggest joke act".
Despite a relatively quiet start to their time in the Celebrity Big Brother house, last night Jedward were involved in their first row. The argument started when Jedward tried to convince British DJ Brendan Block not to quit the show. Despite Brandon telling the boys that he was adamant he wanted to leave, Jedward continued to push Brandon into staying. They accused the other housemates of not doing enough to convince him to stay. After Jedward telling Jamie they were speaking to Brandon about real stuff, Jamie shouted: "Real stuff? What's real about you?". Dressed in a night gown while clutching a teddy bear, he continued to blast them saying "You're the biggest joke act I've ever seen in my life. I'm sick of your noise all the time, you're just f****ing noise!"
Surprisingly Jedward dealt with this diplomatically, admitting that they found Jamie's comments hurtful. They told Jamie that they still saw the good in him and they were just sad that their friend was leaving the house.
This week, the boys have been taking part in a set of nightmare tasks in order to earn a luxury shopping budget. The rules included that housemates could not sleep during the day and could not yawn. They also were banned from using hot water and not use any beauty products or appliances. In the last part of the task, the twins caused controversy again. Professional dancer, James Jordan had to guess who had said the following quote about him. Earlier in the week Jedward said "It's like the two biggest nobodies have become the two biggest attention seekers". James was less than impressed when he found out that this comment had come from the twins who immediately tried to apologise.
Jedward were granted immunity from this week's eviction and will be joined by three new celebrities in tonight's show.
Below you can remind yourself of Jedward's second Eurovision entry Waterline from 2012 with which they finished 19th:
Previously written: