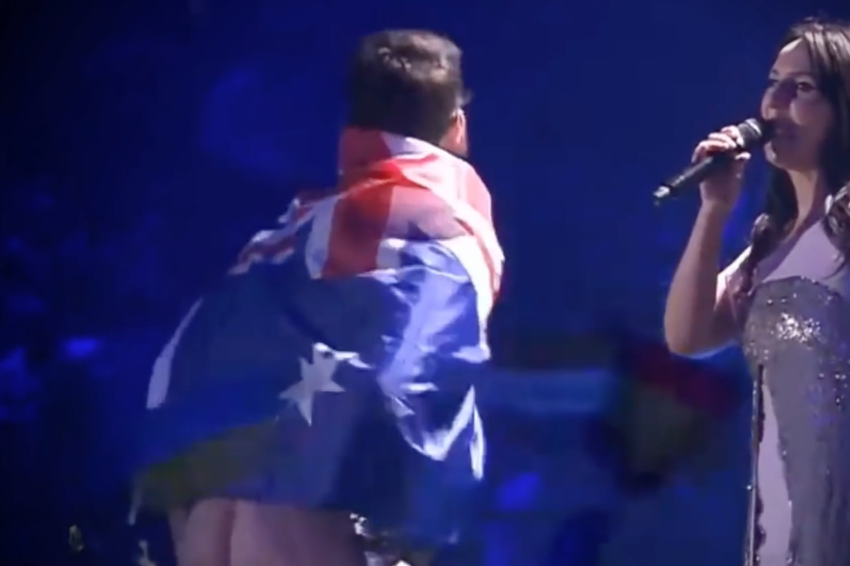 Jamala has finally spoken about her performance at the Eurovision grand final where she was stage bombed by a prankster who flashed his naked butt to the whole world. And guess what? It isn't the prankster she blames.
The few seconds where a man wearing an Australian flag came onto the stage and flashed his naked butt was probably the most talked about part from the Grand Final of this year's Eurovision Song Contest.
Since the incident, we learned that the man wasn't an Australian fan as first believed, but a famous Ukrainian prankster named Vitaly Sedyuk. The prankster had previously travelled around the world performing 'pranks' on the rich and famous.
It has taken a while for Jamala to publicly acknowledge the incident, in an interview on Ukrainian TV show Secular Life, she broke her silence. "I saw everything and I'll tell you more. He was more frightened, because I did not care. I just sang my song, I carry the message that I need to do". She continued: "He did not seem to understand why I was not scared. I did my job. I had a premiere of the song. I'm singing to the camera, I'm doing my job".
The former Eurovision winner slammed the security guards working at the venue. She claimed that it was not Vitaly Sedyuk who was guilty of a crime, but in fact it was the security guides who's neglect allowed it to happen. She said "He could push me, hit me. To the guards and to the organisers I have many questions. Because I did my job, but they did not. They did not protect me. There were hundreds of guards there. They gave him 30 seconds to run and run. This is a very bad moment, we need to find out who is to blame".
Prankster Sedyuk was released without charge following on the condition that he temporarily surrendered his passport. He was extremely lucky as the maximum penalty for the offence was up to five years in prison.
Do you agree with Jamala, that the blame lies with the security guards or do you think Sedyuk should alone be responsible for his actions? While thinking about that, take a look at Jamala's Interval act performance (without the naked butt) in the video below: