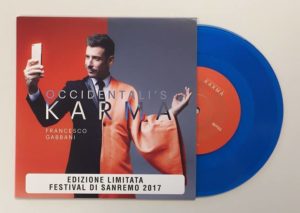 Italy's entry had to be cut down to fit within the three minutes rule. The official trimmed version for the Eurovision Song Contest left fans disappointed. Are some of the alternative versions better?
Many fans weren't pleased when Italy released the official 3 minutes version of Francesco Gabbani's Occidentali's Karma. This shorter version will be used for the Eurovision Song Contest. Many thought that the removal of the second verse of the song simply killed the charm of it. Though the bookmakers didn't react to it, Italy is still top favourite, some fans even saw it as Italy threw away the victory.
In an attempt to show that it could have been done differently, and maybe even wake up the Italian broadcaster RAI, some of the fans even went as far as to make their own edited versions.
Carsten Helmig Nilsson from Denmark tells EuroVisionary that he made his version as he thought it should be possible to do without destroying as much as the Italians did. He adds that he thinks that "the new version is sloppy made. There is basically only the chorus left with the bridges in between. The second verse was rather important, in order to keep the good flow in the song which the original one has."
Listen to Carsten's version of the song:
Where Carsten has cut out the line "The naked ape dances", others however found that too important to get rid off. One of them is Belgian Paul Lashmana. When we ask why he made his version, he explains that it was done "in direct reaction to what I perceive a very blunt way of cutting back such a great song".
He continues, with a direct appeal to RAI: "I think the cuts made in the official version are very audible and also taking away too much of the actual content of the song. I knew staunch fans were always going to be disappointed with whatever version was going to come out, but when the general feeling is that the current edit is actually hurting the song, then maybe it's time to go back to the drawing board".
Paul ends with making clear that he however still has high hopes for this song. "Whatever version is performed in Kyiv though, it still will be one of the best songs in the competition. I hope he goes all the way".
Listen to Paul's version of the song:
As we talk to Paul, he did tell us that he after making his version noticed that someone else made basically the same edits as him – before the official version was released.
The French YouTube uploader behind that one, also uploaded a second attempt at trimming the song, similar to the first one, but where he didn't cut anything on the third verse, but instead slightly increased the speed of the song to make it fit.
Listen to the slightly faster version: