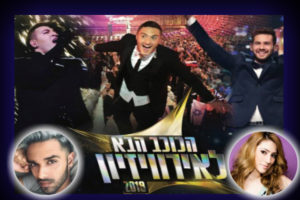 Who shall represent Israel at the 2018 Eurovision Song Contest? Yesterday, the country started its search for Imri's successor. The musical celebration of The Next Star – known in Israel as HaKokhav HaBa is being used for a fourth consecutive year in order to determine Israel's representative for the forthcoming Eurovision Song Contest.
In The Next Star, candidates from across Israel will audition to the audience and the four judges to gain their votes and proceed to the next stage of the competition. While the artist is performing on the stage, the judges and the audience vote either "Yes" or "No". At first they do not see the singer directly because of a screen on the stage. The votes of the jury and the audience are automatically added up and once a certain percentage is achieved, the screen will lift and the artist will advance to the next stage of the contest.
This year, the jury consists of the following musicians:
Static & Ben-El Tavori: Israeli musical pop group.
Keren Peles: Israeli singer-songwriter, poetess and a pianist.
Harel Skaat: Israel singer-songwriter and Israel's representative for Eurovision 2010 in Oslo, Norway.
Assaf Amdursky: Israeli singer, songwriter and music producer.
The Next Star 2018 will continue on the 7th of November and will take place every following Tuesday. It is available for streaming at the following channels:
Channel 2 (To broadcast on Keshet 12 from the 1 November)
Live webcast via mako.co.il
History of Israel's Next Star
Introduced in 2013, The Next Star first became Israel's national selection process for the Eurovision Song Contest in 2015, when Nadav Guedj was selected to sing Golden Boy in Vienna, Austria. The entry took Israel into the Top 10.
The next winner of The Next Star was Hovi Star who finished 14th with his song Made Of Stars in Stockholm, Sweden. The reigning champion of The Next Star and Israel's last Eurovision participant to date is Imri, who once again took Israel to the final of the competition in Kyiv, Ukraine, with his entry I Feel Alive. He finished 23rd with the song you can remind yourself of in the video below where you see a special Full Stage view.