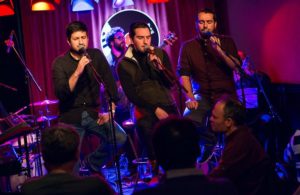 43 songs, and we're now complete for the 2018 Eurovision Song Contest. The last one revealed is "For You". It will be performed by the group Iriao representing Georgia, who will compete in the second semi-final in Lisbon in May.
The national selection season for the 2018 Eurovision Song Contest is now over. This afternoon, Georgia revealed their entry for the up-coming contest in Lisbon, Portugal. With that one, we are now at 43 entries, and it's time for the last preparations before the rehearsals starts at the end of April.
Iriao was revealed on the last day of the previous year. On the 31st of December their broadcaster surprisingly presented the group as being internally chosen. Most were expecting Georgia to have a national final.
Since then things have been rather quiet around the group, but today, as the last song for this year's contest, the song was finally aired. It's titled For You and written by Davit Malazonia and Irina Sanikidze. Despite the English title, the song is in Georgian.
Update: The first video was removed for break of copyright. We were unfortunately not aware of it not being an official released. Half an hour later, it was released in an official version, which you can see below:
Georgia at the Eurovision Song Contest
It was at the 2007 contest that we first saw Georgia on the Eurovision stage. With the song Visionary Dream, Sopho Khalvashi took the country to a 12th place in the final. The following year, Diana Gurtskaya finished 11th. Those results are quite typical for Georgia.
The country failed to reach the final on three occations, but the seven years where they did, they ended between 9th and 15th – aside from 2016 where the entry Midnight Gold came in 20th in the final.
Last year, Georgia was represented by Tamara Gachechiladze. With the song Keep The Faith, she unfortunately missed out on the final. Remind yourself of that one in the video below: