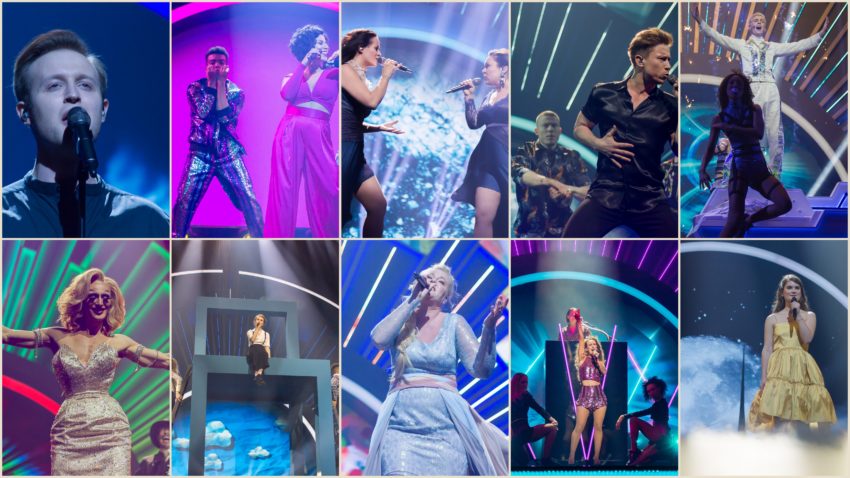 With awards like best performer, most surprising performance, most addictive moves and so on, it's possible to award each participant in the Danish final with an individual award which is just for them. Take a look at which awards the artists won.
In the Danish final, we only get to know the result for top 3. The remaining seven acts each end on a tied 4th place. We think they deserve each their award – something unique to them and their performance, so in best Award Show style we created 10 awards – but with the democratic way that they each win one.
Best Voice
Let's be honest, it does happen that acts gets chosen for Eurovision without mastering the ability to sing live really well. That wouldn't be an issue with Rasmus Faartoft. He demonstrated such amazing vocals in the song Hold My Breath, that it makes him a clear winner of the Best Voice Award.
Most Surprising Performance
People like to be surprised, and if you add a little gimmick which no one saw coming, you get attention. This year's surprise award goes to Humørekspressen. We all thought we knew how this would be performed, but everyone got a surprise when the band brought drag queen Tinus De Schunard on stage. With rainbow coloured confetti as well, they suddenly delivered a performance to match the LGBT enviroment. That we had not seen coming at all.
Best Voice Effect
From time to time participants use various voice effects in their songs and very often it makes a song more modern. We have even seen two Eurovision winners use it. In 2000, Danish Olsen Brothers used a vocoder and last year Netta used a loop machine. For this year's Danish final, LeeLoo brought her own DJ to the stage, a DJ who used a Talk Box. For that, LeeLoo wins the award for Best Voice Effect.
Best Performer
A great performer can make up for a less strong song. It has been seen beforehand that a song gets an enormous boost from having the right performer to deliver it. This year's Best Performer Award goes to Teit Samsø. He delivered an outstanding performance, which made several wonder if he could – quite surprisingly – pull home a top result. He didn't, but we would love to see him back at the Danish final for another attempt as he is a true top performer.
Most Classic Eurovision
As much as we like suprises from time to time, most of the time we just want things to stay the same. A classic Eurovision song with a just as classic performance is almost everytime a guaranteed success. Julie & Nina delivered that classic Eurovision better than anyone else in the Danish final – and earned a second place after winning the televoting.
Best Prop
Hamster wheels, burning latters and even a giant man etc. The use of props is quite big at the Eurovision Song Contest. We are still to see if it will used in Tel Aviv too or not, but this year's Prop Award goes to winner Leonora. We'll always remember her performance in the Danish final for the big chair.
Best Wind
Can anyone remember a Eurovision Song Contest without a wind machine? It's such an integrated part that we of course need an award for Best Wind. The winner of that is Marie Isabell. Yes, others did use it too, but no one else so much as Marie did and as such she is the winner of the Best Wind Award.
Most Addictive Moves
Many Melodi Grand Prix and Eurovision performances have various moves which we all try to master – and we often don't give up until we known them so well that we can do them in our sleep. The award for Most Addictive Moves in this year's Danish final goes to Jasmin Gabay. The hand gesture which comes everytime she sings the three words in the title Kiss Like This made us all pay attention and try to do the same.
Best Smoke
A neatly placed smoke (or dry ice) can really set the atmosphere for a performance, but one has to use it right. For Simone Emilie's performance it was used well. It matched the song, the backdrop and also it matched her short yellow dress. So Simone wins our Best Smoke Award.
Best Energy
Being a performer requires energy. No matter what kind of song you perform, it's important that you appear fresh and ready no matter how tired you are. You also need to make sure that you don't burn all your energy off on stage as press and fans will want you to have energy for them both before and afterwards. No matter when we bumped in to Sigmund, he had that extra energy, which just spread so many positive vibes around him. With no doubt, he wins our Best Energy Award.