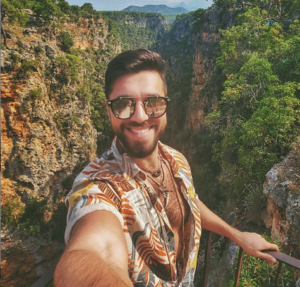 Disneyland, music festivals and trips to Hong Kong are just some of the things that the class of 2019 have been enjoying since their sang their hearts out in Tel Aviv. Let's see how your favourite Eurovision stars have spent their summer.
It has been just two months since the class of 2019 got their return flights home after a fantastic contest in Tel Aviv. They had spent months of touring, rehearsals and interviews in preparation for the contest and were ready for some much needed rest. So, what have they been up to this summer? Let's find out.
---
Chingiz (Azerbaijan)
Chingiz has been busy since he came in 8th place in the grand final with his song Truth. He has been spending time in Turkey where he is currently shooting a video. But it hasn't been all work for Chingiz who has managed to find time in his schedule to hit the gym and do a bit of sightseeing. He posted an image of his 'best selfie' at a gorge in Antalya.
---
Jurij Valenko (Lithuania)
Jurij has spent most of his summer touring and performing in his native Lithuania and has been wake surfing in Vilnius. It seems that the highlight of his summer so far was a trip to Riga, Latvia where he watched his hero Ed Sheeran perform. Valenko took to his official instagram to share a pic of his amazing day where he said he could die happy now.
---
Katerine Duska (Greece)
Canadian born Katerina Duska has been splitting her time between
Athens and London. But it seems to be all work and no play. In Athens Katerine performed at the Canadian Embassy in Greece to celebrate Canada Day and in London she has been in the studio working on new material spending a solid 8 days writing songs. Hopefully we will be hearing new music from Katerina very soon.
---
Kobi Marimi (Israel)
Israel's Kobi has spent his summer travelling in Asia. His photos on Instagram show him in fooling around in Shenzhen, China, Hong Kong and some of the islands surrounding Hong Kong. Marimi shared a picture of him in Stanley Island and Lantau Island. Lantau Island is the biggest island in Hong Kong which is famous for it's monasteries and the stunning views from it's cable cars.
---
Sergey Lazarev (Russia) 
Sergey Lazarev has spent the summer in the US and has been spending some much  needed time with his son Nikita. The Russian star has posted a lot of pictures on his instagram of the pair enjoying themselves in Disneyland , Harry Potter world as well as playing around in Miami Zoo and Miami Beach. Lazarev seems to be back on Russian soil and back to work as he has been performing in the Russian capital and in St Petersberg.
---
Zala Kralj & Gašper Šantl (Slovenia)
Boyfriend and girlfriend duo from Slovenia seemed as loved up as ever. They have spent their summer in their native Slovenia enjoying open water swimming. Last month the pair posted a photograph of them with a globe asking their following for tips on where they should travel to. Despite the majority of their subscribers suggesting a trip to Poland the pair went to Denmark. Zala and Gašper posted a photo of themselves sat on top of a black and white stripped hill and
asked their followers if they could guess where they were, many guessing that they were at the Superkilen Park in Denmark. The Superkilen Park is a large outdoor urban park split into 3 main areas, distinctively known for it's Black Market segment where the pair posed for a picture.