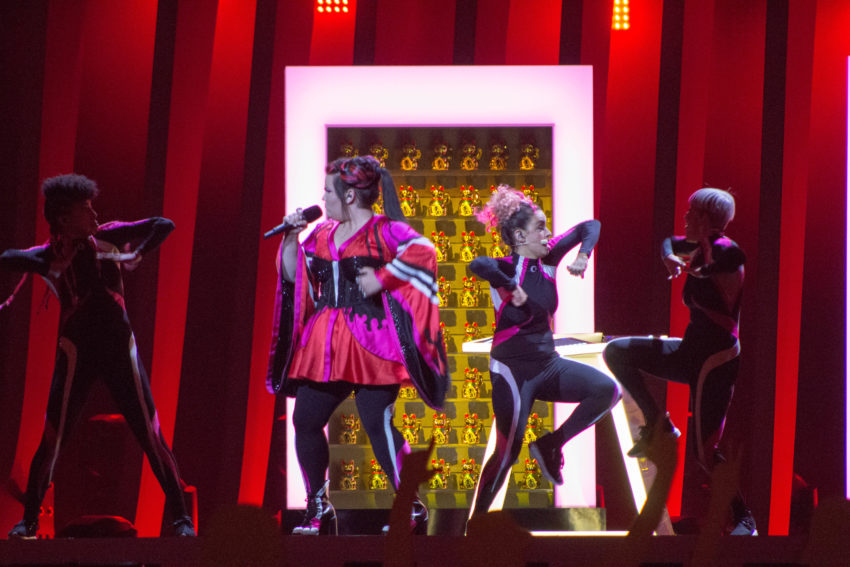 As the bookmaker favourite, Netta from Israel has got a lot of attention in Lisbon. Today she was on stage in the Altice arena to rehearse the second time, and just as in her first rehearsal a few days ago, it went very well.
Toy
, which is written by Doron Medalie and Stav Beger.
Gallery
Dress rehearsal
Second rehearsal
Opinions expressed during our second rehearsal coverage are personal from the mentioned writers.
Pedro, Portugal (in the press center) – Looks like Israel came unprepared to Lisbon or maybe underestimated their competitors. Truth is, Netta totally stepped her game from the first rehearsals and delivered a better performance with better camera angles, better vocals and overall better staging with more fireworks and a lot of smoke. Is it a winning performance? Not yet and I am unsure if it'll ever be. I never really saw Toy as winning song anyway, even though I wouldn't mind that at all.
Michael, United Kingdom (in the arena) – No doubt this is an upbeat fun number which is easy to love. But there's really nothing in it that makes it the bookies favourite that it seems to be. The dancers frankly are a pest and add nothing to the song and the beginning isn't that special. When she gets through the song's introduction, it has a toe tapping beat and a reasonably good message. Sure it's fun, but it's not the best and it's slight novelty should not be enough for it to win.
First rehearsal
Standing in front of two walls of yellow lighted toy cats, Netta ouches and clucks as she gets herself warmed up to start the song. Dressed in a costume of purples, pinks and reds its not long before she gets the vocals started. Totally in-tune but for some reason the song doesn't have the same impact as it does on the video .Her three female dancers are up there on a bridge behind her.
On her second run through she got a lot of laughs when she said she couldn't hear mid song. After standing behind her looper for a good portion of the song, she comes forward, microphone in hand. A stage hand comes on and he's treated as a stupid boy, while Netta gets down to some kind of beat. The last note is a high light.
The word Toy, it can now be seen is flashed on the looper in various colours. On the last rehearsal things were turned up a notch with explosions of purple smoke bellowing from the stage. The dancers actually started to become a distraction now. A good rehearsal, leaving Netta in with a good chance, but now leaves the competition  more open.
How Netta was selected
In Israel, HaKokhav HaBa L'Eurovizion (The Next Star for Eurovision) was used as selection method. It is based on the talent show format Rising Star. After a long season, they had reached the final on the 13th of February. All through the competition, Netta stood out, and up against three other acts, she won the final, and as such the right to represent Israel at the 2018 Eurovision Song Contest.
Netta was then matched with the song Toy, which she recorded, and in March, it was presented to the public. Soon after its release, Israel went to the top of the bookmaker lists making her the favourite for this year's Eurovision Song Contest.
Israel at the Eurovision Song Contest
40 appearances, 34 finals and three victories, such are the facts on Israel who joined the Eurovision Song Contest in 1973.
Very few countries have won the contest twice in a row, but Israel is one of them. They first won in 1978 by Izhar Cohen & the Alphabeta's A-Ba-Ni-Bi, and again the year after with the now classic entry Hallelujah. In 1998, Israel also got a lot of attention. Dana International, born a man, now a woman, won with the song Diva.
Since the introduction of semi-finals in 2004, Israel has failed to reach the final a total of six times, though it has not happened since Mei Finegold in 2014.