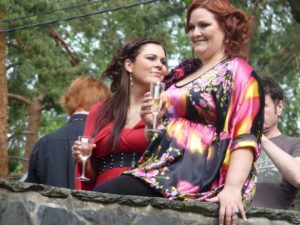 Today Maria Olafs from Iceland had her first rehearsal on stage in Vienna. Missing on stage was Hera Björk, their 2010 entrant, who was due to be backing singer. Due to health issues Hera isn't in Vienna yet, but will make it for their second rehearsal.
Benny Royston from ESCBuzz has been in contact with Hera Björk and she says that she unfortunately didn't make it to Vienna yet due to what she describes as "a little hospital episode", but fans can rest assured that she is on the way. Hera will travel to Vienna tomorrow and as such be able to join Maria and the rest of the Icelandic team at the 2015 Eurovision Song Contest.
Hera Björk participated at the 2010 Eurovision Song Contest with the song Je Ne Sais Quoi, after having gained fame among the fans for her runner up entry Someday in the Danish national final in 2009. This year she will be backing up Maria Olafs on stage, a role she isn't unfamiliar with as she has been in the Icelandic backing on several occasions before.