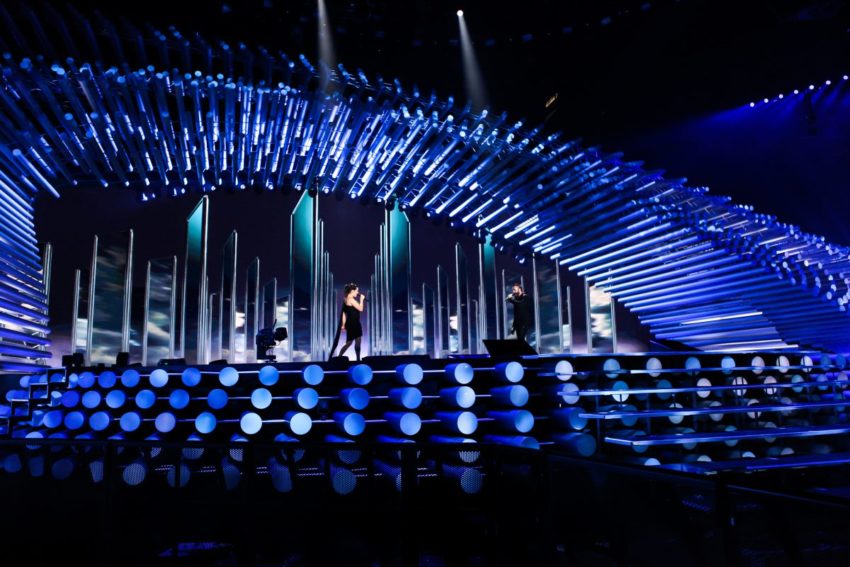 Day 3 of this year's Eurovision and it's time for some of the countries competing in the second semi final to take to the stage for their first rehearsal. It is now time for Malta, Norway, Portugal and the Czech Republic to rehearse their entries. Eurovisionary will be reporting live from the press centre in Wiener Stadthalle.
Malta
Amber
Warrior
Amber is something of a Eurovision veteran as she was a backing singer for the 2012 Maltese entry and has participated numerous times in her country's national selection. This is the second Warrior this year, as Georgia's entry bears the same title. The two songs are not too dissimilar thematically. Indeed, they are both about breaking free, fighting (one would assume for one's rights and beliefs) and conquering but Malta's is a somewhat sweeter take on the theme compared to Georgia's dark interpretation as seen during yesterday's rehearsals. To what extent the two song presentations differ we will be able to tell in a few moments when Malta will be rehearsing for the first time on stage.
Malta's fist stage rehearsal
Amber is alone on stage wearing a black lacey robe dress that, on occasion, leaves her legs exposed. The stage is lit in blue with flame-like formations on the stage background and floor. As Amber moves to the rhythm of the song, the 'flames' seem to respond to sudden arm movements accompanying phrases like 'break through the silence'. The stage later turns into proper 'fire' colours of red, orange and yellow. There are two thick 'flames' projecting on either side from behind the singer's upper body, making the whole set up reminiscent of Conchita Wurst's presentation for Rise Like A Phoenix last year and the way the 'wings' of the 'phoenix' were projecting behind her. Amber looks comfortable on stage and keeps on a smiley face but her vocal performance sounds a bit strained during the prolonged notes of the song – don't get me wrong, she has a really strong voice and nails some very difficult parts of the song, then sounds a bit croaky on particular notes. I think the problem here might be that Warrior is one of the difficult songs to sing in this year's contest and Amber should be careful to perhaps preserve her voice for the semi-final. Again, applause in the press centre but this appears to be the norm today anyway.
Norway
Mørland & Debrah Scarlett
A Monster Like Me
Debrah Scarlett is of Swiss descent and is yet another past participants of talent show The Voice (naturally, The Voice of Norway in this case). Mørland, who comes from Southern Norway but has spent most of his adult life living in the UK, is also the songwriter and composer of A Monster Like Me. This melancholic ballad from Norway unfolds almost like a dialogue between two lovers trying to come to terms with 'something terrible' that happened in the life of one of them in the past – what this incident exactly was is never revealed, leaving listeners guessing about its nature. Mørland & Debrah gave a very sophisticated performance of their song for the Norwegian national final and it is expected that they will be preserving some of its elements for their Eurovision performance, a glimpse of which we are about to get in a few minutes.
Norway's first stage rehearsal
Norway have kept the same presentation as the one used for the Norwegian final but have seriously upped their game. The performance starts with a shot of Kjetil (Mørland) in the distance. The camera moves until we get a close up of his face then moves away, around him and back at this face; Debrah can then bee seen over Kjetil's shoulder before the camera moves on to her. Kjetil is in a white jacket and a white t-shirt with an unusual diagonal neck cut. Debra is in a white number consisting of a cropped top and a long skirt with a pointy symmetrical hemline, a silvery head dress on the right side of her head (the odd hairstyle from the Norwegian final is thankfully gone); her white outfit sets off her red hair beautifully. The stage is very simply lit in orange. The beginning is typical of what follows: the quirky presentation of intricate camera work that was used for (you guessed it) the Norwegian national final. Most importantly the vocal performance of the song is much (much) better than before. Debra's vocals are still a bit shaky on occasion but the duo are now in perfect harmony when they sing together . Unusual and classy, it leaves you with a sense of sadness but, then again, that's what the song is all about.
Portugal
Leonor Andrade
Há Um Mar Que Nos Separa
Nineteen year old Leonor has been a The Voice of Portugal finalist, the winner of Festival da Canção as well as taken part as an actress in an RTR series. This is another song with really 'cinematic' lyrics: we are transferred into city streets at dawn, rain falling down and the protagonist of the song longing for her loved one who is far away beyond the (this being Portugal, Atlantic?) sea. Waiting for Leonor to start her rehearsal, one wonders whether the stage presentation will make references to the lyrics.
Portugal's first rehearsal on stage:
Portugal's presentation is fairly simple but quite elegant. The stage is lit in blue with accentuations from white and blue spotlights and, indeed, the impression of a cityscape in the background. Leonor is wearing a black top with vinyl details that is tight around the waist but has really long, wide sleeves and a long tail that are put to good use through the use of a wind machine that makes them fly dramatically in the air; this is worn over black vinyl trousers. In the background, there are four backing singers also dressed in black and wearing wide brimmed, traditional looking hats. Leonor's vocal performance is good and everything seems to be going smoothly with the first Portuguese rehearsal (as reflected on Leonor's pleased face).
Czech Republic
Marta Jandová and Václav Noid Bárta
Hope Never Dies
Marta and Václav have a succesful background in rock music and musical theatre respectively. Theirs is indeed a song that would not sound out of place in a dark stage musical (something along the lines of Phantom of the Opera for example); the lyrics are really dark and make references to seas of pain and falling prey to the ravens of despair (ok, it's not expressed exactly like that but there is an actual reference to ravens with dark wings). However, right before the last chorus of the song is where the invention of the lyrics occurs: after all the despair described so far, Marta and Václav turn the tables by asking 'or we can rise and fight', thus also turning this into yet another song about having a fighting spirit and in the tradition that songs like the two Warriors from Georgia and Malta have already established in this year's Eurovision.
The Czech Republic's first stage rehearsal
The song starts with a close shot of Václav singing to Marta, who is standing with her back turned at him on the other side of the stage. Václav is in a grey suit and Marta is wearing a short black dress that leaves one of her shoulders exposed. The stage is again lit in blue. We notice in the press centre that with the Czech Republic we get the performers dressed in black against a blue background and it feels as if they are really trying to distinguish themselves from the Norwegian duet that preceded them (the Norwegians wearing white outfits against a stage lit in orange). There are arrays of reflective slabs projected in the background that give the stage the impression of extra depth. A clouded night sky is reflected on the slabs as they rotate. The duo's vocal performance is rather strong and consistent. On cannot help but think that it would be a shame if their vocal abilities were overlooked due to their physicality. Marta in particular is also very expressive facially while performing her lines. What is more, both singers look really happy to be performing on the Eurovision stage and it shows. At the pivotal 'or we can rise and fight' moment, Marta throws away her shoes – this might have been a good idea in theory but it looks quite messy on screen. It is also a shame that, right at the last run of the song, Václav's voice cracks during the last big note – he recovers cleverly but perhaps, like Malta, he should look after his voice until the day of the semi-final. The Czech Republic brings thus brings the third day of rehearsals to a close.
https://m.youtube.com/watch?v=JTQKXYc7wHw