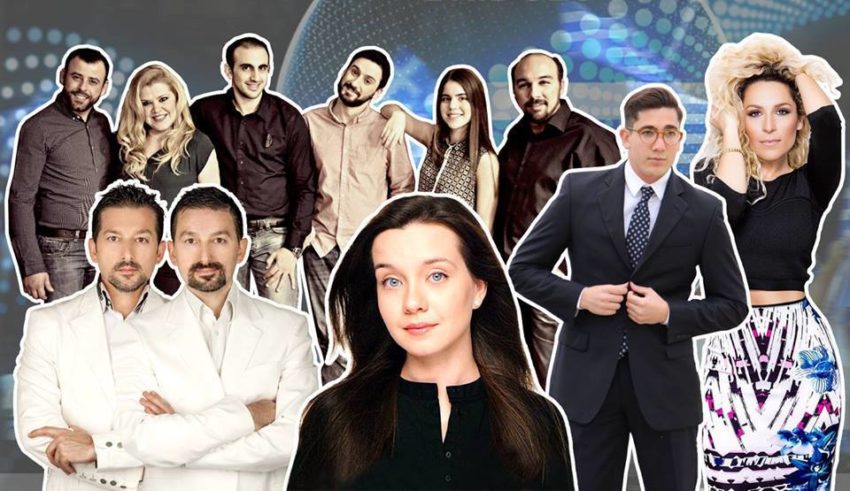 The five songs shortlisted for the Greek final were announced this week – we trace the timeline of events for the country's Eurovision selection and the broadcaster's commitment to a national final and entries of "Greek sound" for 2018.
It was back in late September when it was first reported that Greek broadcaster ERT intended to contact a number of record labels regarding the prospect of putting together a national final. At that stage, a national final would go ahead provided that there was a sufficient number of decent entries.
ERT's letter to record companies made clear that the broadcaster wished that entries had a "Greek sound" and used Greek lyrics. As news of artists submitting entries started coming in, it was becoming clear that some of the songs were not "exclusively" in Greek as originally suggested but that the requirement for the lyrics to be predominantly in the native language remained nevertheless.
Smaller labels also showed interest in taking part in the selection and, as a result, the original deadline for submitting entries (20th October) was extended by one week so that a greater number of record companies could be given the chance to come up with proposals.
By 27th October, ERT had received entries from 20 acts. These were Decho from label Minos Emi, Christina Salti and Yianna Terzi from Panik Records, Giannis Moraitis and Dimitris Kiklis from Vinilio Music, Areti Ketime from Spicy Music, Kyriaki Derempei feat. Lava from Final Touch, Stereo Soul & DJ Koncept and Ink from Heaven Music, Giannis Dimitras (Greece 1981, 8th place) from Kathreftis, Nikos Baibos and Dimitris Liolios from Satellite, Chorostalites and Tony Vlachos from Spider Music, Vaggelis Panatos from E-Music, Vasiliki Stefanou from Polymusic, Duo Fina from Records on Top, Tania Breazou and Panagiotis Tsakalakos from Feelgood and Fotini Vassilaki from Music Art Lab.
During a first meeting on 2nd November, a special jury assessed that most entries satisfied the stipulation for native sound elements and Greek lyrics. Last Tuesday (7th November), five entries were shortlisted. These five acts that got the coveted ticket to the Greek final 2018 are as follows:
In the meantime, it transpired that commercially established artists had also expressed an interest in case the ERT was prepared to select them directly for Lisbon. Eleni Foureira in particular, a very successful pop singer, revealed that, for a second year in a row, had come forward with a proposal.
It is fair to say that some fans would be very enthusiastic at the prospect of Eleni Foureira representing Greece though, in the end, record label proposals outside the context of a national final were turned down by the Greek broadcaster.
I made again a submission for Eurovision and it got rejected (…) I sincerely wish to whoever goes (to Eurovision) 'good luck'. The people there (i.e. in the ERT) want to do a national final with Greek lyrics, they want specific things and our project was not right for them, it was as simple as that. No, I will not send (a song) again…"

Eleni Foureira talking to journalists (excerpts broadcast by morning TV show Ftiakse Kafe Na Sta Po on 31st October 2017)
This morning, a statement by Panagiotis Kalfagiannis, the president of POSPERT, the trade union of ERT and television employees, was reported by Sunday newspaper To Choni. In it, Mr. Kalfagiannis addressed the issue of the broadcaster sticking to the original concept of holding a national final with a Greek musical style and lyrics. He affirmed that Eurovision "interests a great part of the Greek people" and that "POSPERT and the employees want clear procedures and transparency to be in place" regarding the project.
The ERT concept for its 2018 national selection was generally received positively by fans as far as reactions on social media are concerned. It now remains to be seen whether the shortlisted songs for the national final, expected to take place in February 2018, will meet fans' expectations.
In any case, the Greek national final, expected to take place in February 2018, will mark a change after two years of consecutive internal selections in 2016 and 2017. Indeed, this year, Greece was represented by internally selected Demy, a pop sensation in the country.
In the following videos, you can watch Demy in Kyiv last May, performing her entry This Is Love as well as answering to our Would You Rather questions.
For more videos like these, subscribe to our official channel on YouTube.