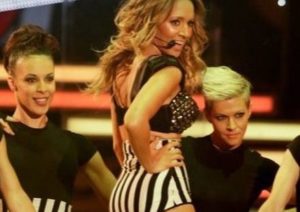 She came third representing Greece in 2008, and this year, Kalomira was offered to return to the Eurovision Song Contest. She however said no to celebrate her anniversary with one more participation. Her no, led to a scandalous selection of the Greek entry.

Ten years ago, Kalomira Sarantis, as her full name is, represented Greece at the Eurovision Song Contest 2008 which was held in Belgarde, Serbia. She achieved a very honorable third place for the country with her song Secret Combination. In an interview to People Magazine she revealed that she was asked to represent the country in Lisbon as well. She was interested, but an inner voice told her not to do it as her main focus now is on her family, and in particular her children.
This year was the 10th anniversary of my participation at the Eurovision Song Contest. I had some early talks to represent Greece in Lisbon, but it didn't worked out. In the first place, things were going good, but my instinct said to me "don't do it, don't do it". I've made clear in my mind that my priorities at this time of my life are my children and my husband. Whatever I do in my career, it must not affect my children's programme.

Kalomira to People Magazine, Greece.
As Kalomira said no, the Greek broadcaster instead went for a national final. Five acts were selected. Two were pulled out as they didn't have enough of the Greek sound, the broadcaster was after. With three acts in the final, another two were however disqualified as they couldn't deliver a financial guarantee proving they were able to pay for their Eurovision participation, which in Greece is not paid by the broadcaster. With those two out, only Yianna Terzi and her song Oniro Mou was left. The national final was obviously cancelled, and she was chosen to represent the country at this year's Eurovision Song Contest.
Like many other Greeks, Kalomira expected Yianna to do better than she did. She came 14th in the semi-final, and thus failed to reach the final. This was only the second time, Greece left the competition after the semi-finals. About Yianna's entry, Kalomira said: "Yianna gave everything she had, she was totally amazing. The song was powerful with very nice lyrics. I was sure that Oniro Mou would qualify. I couldn't believe that Greece didn't managed to reach the final".
In the video below remind yourself of Kalomira's 2008 Eurovision entry Secret Combination: