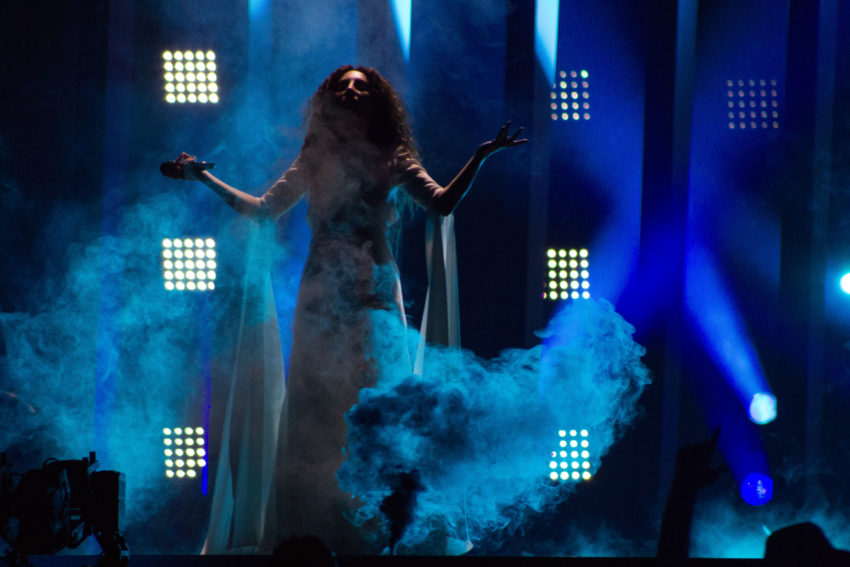 Onerio Mou couldn't be anything else but Greek. It has all the elements that usually go into a Greek entry, and the audience love it.
Oneiro Mou
(My dream), which is written by Terzi herself along with Aris Kalimeris, Dimitris Stamatiou and Mihalis Papathanasiou.
Gallery
Dress rehearsal
Second rehearsal
Michael, United Kingdom (in the press centre) There were no changes in this series of second rehearsals, so the best that can be said is that it is all very Greek. The Aegan warbling is a throw back to some of Greece's earlier entries, after a series of dance numbers. So it sounds very dated, if polished and professional. Not a huge fan of the song, though Yianna, the singer is amazing, but sadly with ten more preffered siongs, I'd prefer it stay in the semis.
Pedro, Portugal (in the arena) I wasn't expecting this but Greece does look better live than on screen. The stage does look quite empty and boring on screen but when you have a panoramic view of everything that goes on stage, that changes. For me, the smoke is the main key of this performance as it looks phenomenal and mysterious, something that goes along with the song itself. On top of that, Yianna sounds amazing and represents the Greek culture in such an elegant way with her white outfit that takes us back in time. I was disappointed seeing the first rehearsal but things have now changed.
Complete the sentence
First Rehearsal
Yianna is dressed in a long draping Greek style white dress, with a flowing scarf like feature around her arms. Vocally she is totally in tune producing very effortless powerful notes. She doesn't move around much as the spotlight beams down from above her head. The pan pipe and drum introduction is very strong, as is the unseen backing vocalists. Yianna appears to prefer to be alone on stage. This is very reminiscent of Greece 1992.
The stage is awash with blue and spotlights shine of and on in the background. There is very little movement but after the instrumental break, Yianna raises her hand to show of the scarf like accessory and then drops to her knees without touching the ground, for a last chorus. She should be happy with these rehearsals. Oh and the wind machine was put to good use.
The last rehearsal saw the used of more yellow lights in the back ground before the screen changed to the press conference of Former Yugoslav Republic of Macedonia, so any other effects that she uses were not seen.
How Yianna Terzi was chosen
Greece had everything lined up for a national final. Five record companies had submitted each their entry, the songs were released and the broadcaster was putting the final touches on the final… but then followed a scandal where first two entries were removed from the line-up as they didn't provide the ethnic Greek sound broadcaster ERT were looking for. Later, two more entries were officially disqualified for not being able to provide the financial guarantee that they were able to pay for the Eurovision participation. It didn't help that the record companies behind those entries claimed that they were never informed about the money.
With Yianni Terzi as the only act left for the national final, she was chosen with no competition.
Greece at the Eurovision Song Contest
One victory, and ten times in top 10 after the country returned to the contest in 2001 following a three years absence. In newer years things have overall been good for Greece, which had a perfect strike in terms of qualifying for the final – up until 2016. Argo's Utopian Land finished 16th in its semi-final and as thus, weren't near making it.
The bad placement from Argo is however not the only thing which indicates that Greece are in need to improve. Their last top 10 result came in 2013 where they claimed Alcohol Is Free. Since that time, the best result earned is a 19th place in the final.