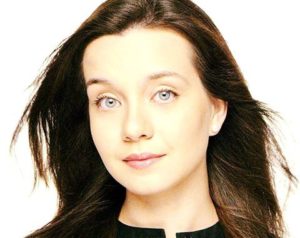 It has been confirmed that the Greek broadcaster has already received a song for its 2018 Eurovision selection. The traditional-sounding entry is sung by folk musician and former child prodigy, Areti Ketime. 
It was revealed only a few days ago, that ERT is considering a return to a Greek national final for 2018. The public broadcaster will make a final decision on the matter based on whether there will be enough entries of sufficient quality. If so, the chances are there will be a national final as opposed to internally selecting the Greek entry for 2018.
Dimitris Karras, the song's composer and producer, confirmed today that he and his team have already submitted an entry. Its singer is folk singer and santoor player Areti Ketime and the song itself was described by the composer as combining traditional Greek and Balkan influences with strong choral elements. The lyrics apparently refer to humanitarian issues such as the current immigration crisis as well as world peace.
It is a song that primarily suits Areti (…) We wanted to do what we know how to do well, not to disguise as something we are not (…) At the end of the day, (Eurovision) is too big an event to be confined by (musical) labels and no-go areas.

Dimitris Karras, composer and music producer.
Areti Ketime
Areti first became known to the Greek public as a prodigy singer and santoor player. Aged thirteen, she was chosen by prestigious Greek singer Yorgos Dalaras as one of the support acts for his concerts. Two years later, the young musician would perform during the opening ceremony for the 2004 Athens Olympic Games.
Having remained faithful to her signature traditional and Byzantine musical styles, Areti has since had collaborations with both Greek and international musicians. The young artist's theatrical experience includes performances as a member of the chorus in Ancient Greek Tragedy as well as roles in children's theatre.
In the following video, you can listen to Areti's collaboration with German DJ Shantel, a track called EastWest/Dysi Ki Anatoli. Do you think that the artist and her traditional musical influences would be a good choice for Greece in Eurovision 2018?