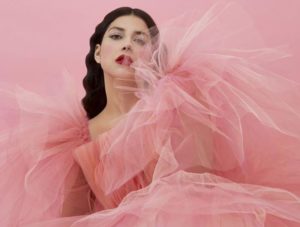 Can the mid-tempo pop song "Better Love" bring Greece back to the top of scoreboard? In the past three years, the country failed to reach the final twice, but the broadcaster believe they have a winning song this year.
In recent years, it hasn't been fun being a Greek fan. Greece use to be a country who would reach the final every time, and very often bring home good results as well. From 2001 to 2013 (both years included) their artists landed a top 10 result 10 times!
Utopian Land changed things in 2016. The song by band Argo finished 16th in their semi-final where top 10 would qualify. Though the Greek fans had seen it coming with that song, it was still a chock to many to realise that Greece could miss out of the final. Just two years later, in 2018 Yianna Terzi also missed out on the final.
Following the poor results, Greek fans asked for changes – and they got it. Broadcaster ERT changed their Eurovision team to some who implemented a different approach, and at least to the fans, it looked like they cared more. The result, this year's Greek Eurovision entry, can be heard in the video below. The song is written by Katerine Duska herself together with Leon Of Athens and David Sneddon.
At ERT's presentation of the song this evening, CEO Ioannis Drosos said that Greece is in it to win it, this year. They believe they have the song, which can win the Eurovision Song Contest.
Katerina Duska is a Greek-Canadian singer. She got her breakthrough in 2013 with the song One In A Million, which became a big hit in Greece. Following that, she released her first album, Embodiment, two years later.
When speaking about her performance in Tel Aviv, Katerina revealed a girl power performance. To Greek TV this morning, she said that her backing vocals as well as dancers all will be females – and that she will be joined by five of them.
Greece at the Eurovision Song Contest
Since their debut in 1974, Greece has taken part in the contest 39 times and only failed to reach the final twice. They have finished in top 10 a total of 17 times. So far, the stats looks quite OK, but when you look closer you realise that their last top 10 goes back to 2013 and that their two missed qualifications came within the past three years.
The country won once, in 2005 by Helena Paparizou's and now her legendary My Number One. Three years later, Kalomira finished third with the song My Secret Combination.
Whether or not, Katerine Duska found her secret combination which can bring her country back to the top of the scoreboard, we'll have to wait and see, but the Greek fans do have high expectations to her song Better Love to be able to do well.
At the 2019 Eurovision Song Contest, Greece will take part in the first semi-final where they have been drawn into the second half. Cyprus is also allocated to this semi-final.
Lyrics for Better Love
Live for the mess
Make me feel ageless
No pain, no gain
Teach me carelessness
And I'm about to see all that's made up
And everything they want from us
No pain, no gain
Once bitten, make way
And I can't hide it
I won't fight this
Yearning feeling inside
Gotta get
Better love, better love
All that we're after
Way to love, who you love
There's nothing more to say to back it up when I'm
unafraid, I've lost enough
Go on, hold on for dear life
'Cause I can't hide it
I won't fight this
Burning feeling inside
Gotta get
Better love, better love
All that we're after
Way to love, who you love
Won't you lean on me
You can lean on me
Let them look, don't know, don't care
Go deep with me
Go deep with me
Go deep with me
Better love, better love
All that we're after
Way to love, who you love
What you waiting for, what you waiting fo-or, what you waiting for?
Better love, who you love