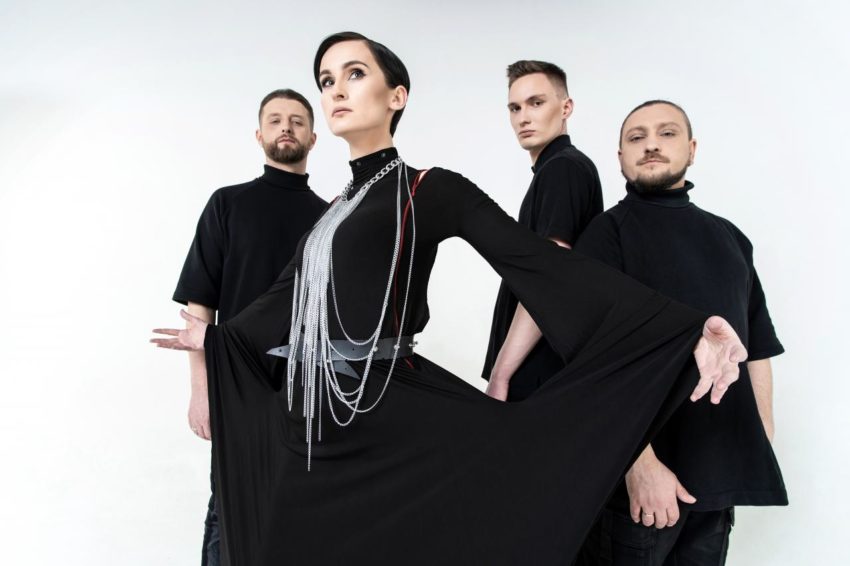 Go_A represented Ukraine at the 2021 Eurovision Song Contest. With 'Рано-раненько' (Rano-Ranen'ko) Go_A shows once again how to celebrate your roots through electronic music.
We have already seen how Go_A honoured their Slavic roots with SHUM. Here's another song where traditional melodies are combined with electronic music. The band's name can be interpreted as a "return to your roots", by combining English verb "to go" and the letter "Alpha" from the ancient Greek alphabet, which represents the origin of things.
Рано-раненько (Rano-Ranen'ko) celebrates Kupala Night, the traditional Slavic holiday taking place on the short night of the year (6th to 7th July according to the Julian calendar). The celebration relates to the summer solstice when nights are the shortest.
In the song, Kateryna sings about making a Kupala wreath with flowers, salvia and mint. According to old Slavic folklore, girls would float these wreaths on rivers in an attempt t to gain foresight into their romantic relationship future. Men would then try to capture the wreaths, in the hope of catching the interest of the woman who floated it.
Рано-раненько – opinions from fans
In order to find out what Eurovision fans think of this song from Go_A, we asked our Eurovision Fan Panel. It includes team members as well as fans from all over the world.
🇬🇧 Michael O. — More of the same noise as their Eurovision entry, and this one probably would have gone Top 5 too. An acquired taste is required for sure, but this is a good enough listen.
🇬🇷 Kostas C. — I like this song a lot, as well as both of their entries for Eurovision. I find this combination of electro music and folk elements very interesting. The voice of the lead singer is very unique and recognizable. I could easily follow them in the future.
🇨🇿 Josef S. — Go_A just proved that being unique is what makes you stand out at Eurovision. Their ethno-folk was loved by public but also by juries. And Rano ranenko is as good as Solovey or Shum, only a little bit more on the mainstream side of their sound. Which is not something bad, it just proves that this style may lean towards multiple other genres and still be attractive for the audience. I love this! ❤
🇷🇸 Milosav T. — Ukraine was my favourite at this year's Eurovision, and this song further shows what a good band they are. Katerina's vocals are beautiful, haunting and strong. The instrumental parts of the song vary from techno to almost a symphonic sound. Add the folklore elements, and you get a strong four out of five stars from me.
🇹🇭 🇬🇧 John E. — I really like this! It makes me want to dance, and I feel uplifted, even though I don't understand the meaning of the lyrics. I have no idea what the song is about and for this reason it encourages me to want to hear more of their music.
🇩🇰 Charlotte J. — I am really mixed when it comes to Go_A. I didn't like what should have been their 2020 Eurovision entry. I really do like the 2021 one though. This song, Рано-раненько, I however don't like. In fact, I get slightly annoyed at it, the music gets on my nerves. At the end, I am grateful that this was only four minutes.
🇪🇸 Mária P. — I love this kind of songs by Go_A, where they combine traditional and folk tunes with modern sounds and beats. This song is not very different from SHUM, so I think that if it had gone to Eurovision with the proper arrangements and a punchy staging, it could have been the runner-up for the televoting and get a very good final placing.
🇮🇹 🇬🇧 Maurizio V. — Go_A really impressed me with SHUM and I have to say that this song is very good if you're into EDM music. I think that Kateryna's singing style goes very well with this type of music. Рано-раненько is a busy song, from an instrumental point of view, but I can imagine people dancing to this in a summer music festival. Well done, Go_A!
🇳🇱 🇩🇰 Wouter V. – I didn't know technofolk was a thing, until Go_A's leadsinger described their style as such. But it's a thing, and apparently I like it. This song sounds quite similar to their Eurovision song, and I like to hear a bit more variation. But it's quite good as it is.
Enjoy Go_A's Рано-раненько in the embedded video. Below the video, you can read more about them.
Go_A – a mini biography
Kateryna Pavlenko (vocals), Ihor Didenchuk (sopilka, a traditional Ukrainian flute), Taras Shevchenko (multi-instrumentalist) and Ivan Hryhoriak (guitarist) formed Go_A in 2012, after Shevchenko spent one year looking for like-minded people who'd be interested in mixing EDM music and Ukrainian folk music.
The band strives to rake up words and melodies from old Ukrainian songs and often collaborate with local elders from many villages around the country.
Since its formation, the band has played in several music festivals around Europe. Go_A first gained attention with the single Vesnianka (Веснянка), which won the national competition The Best Track in Ukraine 2015. The band was awarded Discovery of the Year by Kiss FM radio in Ukraine.
In 2016, Go_A released their debut album Idy na zvuk (Іди на звук; "Follow the Tune"). In early 2017 they released a Christmas single Shchedryi vechir (Щедрий вечір) in collaboration with Katia Chilly, a Ukrainian singer who's famous for combining new age and world music.
Go_A won the Ukrainian national selection for Eurovision 2020 with the song Solovey. After the cancellation of Eurovision 2020, the Public Broadcasting Company of Ukraine chose them once again to represent the country in 2021. The band performed SHUM in Rotterdam, Netherlands and placed fifth, with 364 combined public and jury points. However, in the public vote alone, Go_A placed second with 267 points, after Italy.