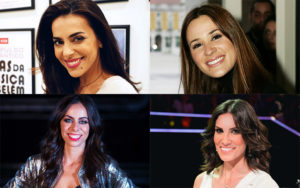 Catarina Furtado, Sílvia Alberto, Filomena Cautela and Daniela Ruah are going to be the presenters of the next Eurovision to be held in Lisbon. Get to know a little bit more about these four ladies who all share a tremendous experience.
It's now official. While the news was leaked over the weekend by Portuguese group Impala, RTP has now made official what we already know. It's not a duo that will host next year's Eurovision Song Contest, but a foursome of beautiful and talented ladies.
Three RTP sweethearts – Catarina Furtado, Sílvia Alberto and Filomena Cautela – will be joined by CBS's Daniela Ruah, a Portuguese actress, who has been part of the NCIS: Los Angeles cast for almost a decade. The Portuguese ladies were chosen by RTP and have already gathered for a promotional photo shoot. Part of it can be seen in the video posted in Eurovision's official channel which can be found below and where the four ladies invite you to the biggest music event of the year.
While we wait for the girls to take over Altice Arena's stage, get to know them a little better and understand why they're the best choices.
Catarina Furtado: Years of experience
She has been one of RTP's main faces since 2003. Catarina Furtado is 45 years old and was born in Lisbon. Even though she is better known as a TV host, Catarina's acting talent shouldn't be dismissed.
Why is Catarina Furtado a good bet to present Eurovision? Well, her curriculum speaks for itself. Not only has she been presenting TV shows since 1991 but she has been the face of more than 20 programs related to music. Among those are the rating magnet talent shows such as The Voice Portugal or Operação Triunfo. On top of that, she was the presenter of Festival da Canção 2003, 2004 and last year's final.
You can see Catarina Furtado in action right here.
Sílvia Alberto: An Eurovision expert
Besides being an extremely talented presenter, Silvia Alberto has always been a fan of the Eurovision Song Contest. Alberto is 36 years old and has been part of RTP since 2006. Since then she has not only been part of Portugal's national selection for seven times as a presenter but she has also been the commentator of the main show multiple times.
Back in 2015, Silvia was one of the believers that Eurovision could still be relevant in Portugal: "It's a huge show. Who has been there knows it. Maybe we don't show it the way we should but living the Eurovision in Europe is just like living the football championship".
Why is Silvia Alberto a good option to present Eurovision? Not only is she used to hosting talent shows (Portuguese Idol, Operação Triunfo) but she is an expert and has already been part of Portugal's teams in the past. She has the knowledge and the experience.
Get to know Silvia's work by checking the time she interviewed Simone de Oliveira.
Filomena Cautela: Fresh and highly motivated
Filomena is the youngest of the four presenters. She gained Eurovision experience last year when she interviewed Salvador Sobral countless times. She took over Festival da Canção's green room and even presented Portugal's jury points. Despite being new to the Eurovision scene, the TV host is extremely motivated and one of the main promoters of the event in the country through her night show 5 Para a Meia Noite.
Why is Filomena Cautela a good option to present Eurovision? She is fresh, unique and genuine. If anything goes wrong, RTP will know where to turn to. Being the only presenter who hosts a late night show, Filomena may bring humour into the event without sounding or looking too forced. Her motivation will also be inspiring to watch.
Recently Filomena posted a video of herself in Altice Arena where Eurovision will be held in May. As well as her hosting skills, you should check her interview with Manel Navarro and Salvador Sobral.
Daniela Ruah: The international star
Although now living in the US, Daniela's acting career started in Portugal back in 2000. In 2007, Daniela moved to the US where two years later she became a permanent character in CBS's NCIS: Los Angeles.
Daniela is the only one out of the four girls that is not a RTP employee. In fact, the only time Daniela worked for the Portuguese broadcaster was back in 2001 with a special participation in a TV show. There is no prior relationship between Eurovision and Daniela. Nonetheless, her TV curriculum has more than TV shows or telenovelas to offer. In 2005, she was the presenter of TVI's Cinebox and in 2017 she was the host of CBS's Super Bowl Greatest Commercials.
Why is Daniela Ruah a good pick to present Eurovision? Aside from having the best level of English amongst the four; being a US TV star, Daniela may catch America's attention towards the show.
While Daniela has no previous presenting skills, you can be sure she will deliver English as good as a native, as seen in this interview with Queen Latifah.
Now that you know who's presenting, are your expectations high? Let us know in the comments.