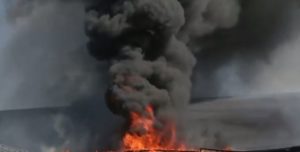 Gigantium arena in Aalborg, Denmark is currently in flames as a big fire broke out a couple of hours ago. The arena hosted the Danish final several times, and were a very likely candidate for the 2018 Melodi Grand Prix final. 
Update: 6th of July 2017 at 12:45 CET:
The fire has been completely turned off, and today they will inspect the damages. So far we know that the fire started on the outside of the big hall by the use of a weed burner. Flames from it caught the building. The big hall has severe damages with one side collapsed and the roof very damaged. The water from the rescue work have also caused damages to the inside. It has been mentioned that the damages are mainly focused on one end, and not in the entire hall, but building inspectors will today be able to tell more about the current status, and how long it will take to rebuild.
Article from the 5th of July:
Today Aalborg is in shock as the big complex Gigantium currently is in flames. Everyone inside has been evacuated, and there should be no casualties. The damages to the biggest hall which is used for handball, concerts, and Danish finals however is severe.
Aalborg Handball which plays in the hall which is now on fire, is current Danish champions in the Danish men's league.
Currently the fire hasn't spread to the other halls which includes an ice hockey arena and a swimming complex. At the moment the fire is, by the fire officials, described as "almost under control, but we can't say it is under control as we don't know what is hiding inside".
There is 11 fire patrols at the arena at the moment. The smoke from the fire can be seen several kilometres away, and people in the area, which also features the University, have been asked to stay inside and close the windows.
Gigantium was favourite to host the 2018 Danish final, Melodi Grand Prix, which the city has been preparing for the past year, just as it was Aalborg's bid for Eurovision 2014, before the city later withdrew.