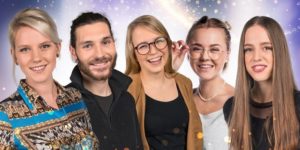 Today we present the five hopefuls who will perform in Germany's national selection Unser Song 2017. In this article we reveal more detailed information, about the candidates.
The German final will be broadcast  live on NDR  on February 9th.
The young musicians have been selected by a jury, which further selected songs by international producers and songwriters especially for the Eurovision Song Contest. More information, concerning the German selection process can be found in the linked article:
Below you can find interesting information about the young artists which has been made public by the broadcaster on Eurovision.de.
Axel Feige:
The 28-year old musician from Hamburg plays various instruments such as piano, guitar and basoon.This musical versatility transfers to many different genres  such as Blues, Soul, Jazz, Funk, R 'n' B, Pop and Rock. He describes himself as a creative, but risky team player. The young artist currently is part of the two bands, Absolem Max and Diazpora.  He has a career as a street, wedding, studio and live musician.
Felicia Lu Kürbiß:
On the broadcaster's webpage, the 21-year-old young lady describes herself as a creative, ambitious and positive character. Musically she goes more into a very modern direction and prefers the genre electro pop. She shows of her talent on her own youtube channel. In 2014, Felicia reached the final of the casting show Rising Star.
Helene Nissen:
The young singer from Northern Germany currently still goes to school. She has a preference for Johnny Cash and Blues as a genre in general and characterizes herself as honest, friendly, but yet ambitious person. As Felicia, Helene is also active on youtube, where she uploads videos on a regular basis.
Isabella Levina Lueen:
Born in Bonn, the artist yet has won many different awards within the past 10 years as the price for the Best Vocal Performer at the Uni-Music-League 2012 while she studied at the King's College in the United Kingdom. Since 2014 she works as a solo musician in collaboration with various artists and producers. She describes herself as open-minded, creative and very tall.
Yosefin Buohler:
Yosefin was brought in as a replacement  for Wilhelm Richter, who withdrew for personal reasons. The 21 year old is a trained actress. She is half Swedish, half German and is familiar with TV shows and big crowds. At the age of 13 she was in the final in the talent show "Das Supertalent" an in 2013 she sang the German national anthem in front of 50,000 spectators at the World Cup qualification match between Sweden and Germany in Stockholm.
Can any of these acts bring the title back to Germany, following their last win in 2010 with Lena and Satellite. Unfortunately, Germany has finished last in the last two finals, the most recent being Jamie-Lee and Ghost, video below. Let's wish all the German contestants this year, luck.