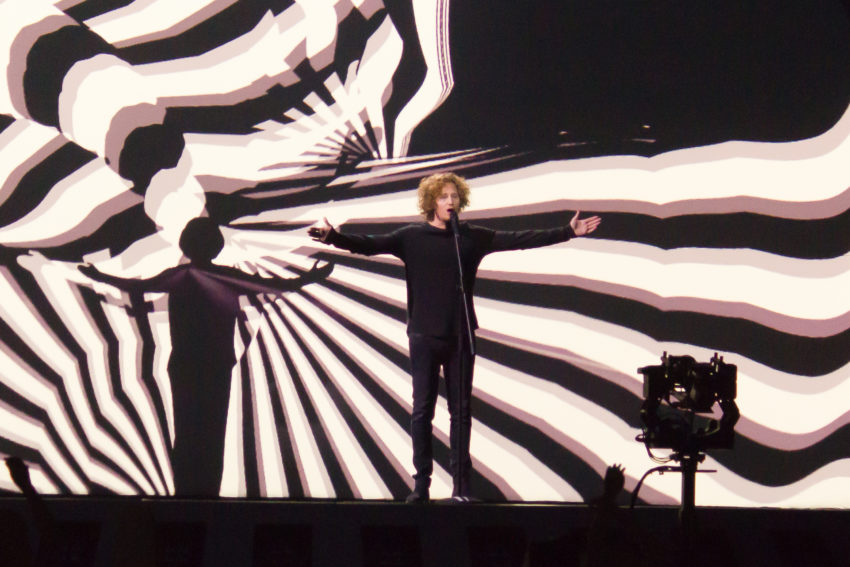 Despite singing a slow song, Germany didn't dismiss a good staging that surely will give them a boost and maintain their 2018 song away from rankng last, something that has been happening too often.
You Let Me Walk Alone
, which is written by Michael himself together with Thomas Stengaard, Nisse Ingwersen and Nina Müller.
Gallery
Complete the sentence interview
Second Rehearsal
Opinions expressed during our second rehearsal coverage are personal from the mentioned writers.
Michael – United Kingdom ( from press centre) This is a really nice song, melodic and pleasant. That is also the reason Germany will once again struggle to reach the left hand side of the scoreboard. There are no fancy bells and whistles here except the touching back wall video. Michael has really good vocals and received a huge cheer, but nothing is ear or eye catching enough to warrant a top placing. What a shame.
Jens Erik, Denmark ( from the arena) What a wonderful and fantastic performance I just witnessed here in the arena. This is a very emotional song and Michael Schulte really knows how to send all this out in the air in the arena. Only if you have a heart of stone, you won't be touched by this. I must admit I had a little tear in my left eye and I will be cheering for Germany on the big night although it's not favourite this year. Don't know how it works on a tv screen, but live it works damn well.
First rehearsal
It's not very common that ballads feature a strong staging but that won't apply to this year's German competitor that is singing You Let Me Walk Alone.
It all starts slow and quiet but don't be fooled by that illusion. As soon as the chorus kicks in, the viewers will then understand there is a LED screen standing behind Michael Schulte that elevates the song and performance to a whole new level.
During the chorus, the screen behind the singer showcases part of the lyrics which then switches to pictures of him and his beloved father who passed away when he was just a kid. It's a very emotional performance that will surely touch people's hearts.
There's no way Germany is seeing the end of the table again this year.
How Michael Schulte was chosen
German broadcaster Norddeutscher Rundfunk (NDR) received over 4000 applications. Just 211 of these applicants were invited to attend workshops where they received vocal coaching and choreography training. The acts were further scrutinized by a Eurovision and expert jury panel who whittled the 211 applicants to just 6. These 6 contestants were invited to the live final  which took place on the 22nd February 2018.
The live final named Unser Lied für Lissabon (Our Song For Lisbon) was filmed at Studio Berlin Adlershof in Berlin. The winner was selected via a mixture of public, expert jury and a special Eurovision panel. Michael Schulte won all 3 of the votes and was given the golden ticket to represent his country in Lisbon.
Germany at the Eurovision Song Contest
Since 2000 Germany, as a member of The Big Four (Now The Big Five), have automatically qualified for the Grand Final. Germany made history in 2010 when they became the first and only country from The Big Five to win the contest since the group was created. Lena won the contest in Finland, earning 246 points with the song Satellite. This was the second time Germany had won the contest with their first win being 28 years earlier when Nicole earned victory with Ein bißchen Frieden.