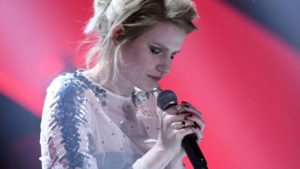 Germany's Eurovision selection Unser Song 2017 was won by Isabella 'Levina' Lueen and her rendition of competing entry Perfect Life. The night also saw guest appearances by former Eurovision winners, Nicole, Ruslana and Conchita as well as Lena acting as an expert judge.
The background and format of the national selection
Unser Song 2017 marked something of a Eurovision selection revamp for public broadcaster NDR. There was a search for entries amongst international songwriters and producers. These were sung tonight by five hopeful artists, narrowed down after an online search. You can read more on tonight's contestants following the 'see also' link below.
It was also decided that the format of Unser Song 2017 would consist of three rounds – one round during which all contestants would sing a cover version and two rounds in which they would sing songs created especially for the German national selection.
The five contestants would be whittled down to three in round 1, then down to two in round 2. The two finalists making it to round 3 would sing a second competing entry. The two out of the four entry song renditions scoring better overall would then go head to head in the final round, in which the winning entry would be determined.
For the first time, international Eurovision fans could download an official app called Eurovision Vibes that allowed them to follow rehearsals as well as to vote for their favourite performance of each round.
Round 1 – the performances and results
Helene Nissen – Folsom Prison Blues by Johnny Cash
Helene Nissen was the first to take to the stage singing Johnny Cash's Folsom Prison Blues. Bespectacled Helene was confident performing with her guitar and the audience soon responded to her enthusiasm by joining in, clapping along. Helene has a nasal yet stable voice with a youthful kick to it and her performance went down well with the audience.
Yosefin Buohler – Love On Top by Beyoncé
Josefin was informally clad in black tights and a loose white t-shirt. She gave a competent performance in a feisty attempt of Beyoncé's Love On Top while strutting (a bit repetitively) across the stage. The performance was warmly received. The expert judges appeared favourable as well.
Felicia Lu Kürbiß – Dancing On My Own by Calum Scott
Felicia has a characteristic voice and sang Dancing On My Own with vocal accents that gave warmth and emotion to her performance. She appeared very elegant in a sequined black top and white matching skirt and looks good on-screen. Her performance went down very well inside the venue.
Axel Feige – You Know My Name by Chris Cornell
Axel, his hair worn tied back and dressed in a grey suit, opted for Casino Royale theme song You Know My Name. The James Bond tune suits his husky voice. He sings competently and, even though he keeps his eyes closed perhaps a bit too long, he is able to carry the number off in regards of his stage presence as well. He gets a warm round of applause and the experts appear positive as well.
Isabella 'Levina' Lueen – When We Were Young by Adele

Smiley Isabella looks very sleek on stage. She is lit by a red spotlight and dressed in a light tight top and black trousers. She has a beautiful, interesting voice that gets the crowd excited mid-performance. She can definitely hit a high note with confidence. Her performance is met with a great round of applause. The experts look very happy, too.
Axel seemed to have an early lead with international viewers. The round results were as follows:
| | | |
| --- | --- | --- |
| CONTESTANT | COVER SONG | RESULT |
| Helene Nissen | Folsom Prison Blues | through to Round 2 |
| Yosefin Buohler | Love On Top | eliminated |
| Felicia Lu Kürbiß | Dancing On My Own | eliminated |
| Axel Feige | You Know My Name | through to Round 2 |
| Isabella 'Levina' Lueen | When We Were Young | through to Round 2 |
Round 2 – the performances and results
Helene Nissen – Wildfire
Helene gives a youthful, energetic rendition of Wildfire, a sweet rhythmic song with essences of American country music in it. Helene definitely cuts a very characteristic figure that, visually at least, would not go forgotten amongst other contestants in Kyiv. Her jumping on stage seems to be picked up by the judges. The overall reception of the performance appears to be rather positive.
Axel Feige – Wildfire
Axel gave a more mature yet cool rendition of the song. He performed sitting on a stool, having ditched the jacket he was wearing earlier and appearing in a waistcoat instead. There were some very effective close-ups proving that the singer would look good on-screen in May, too. The overall result is one of confidence and consistency. Once more, a warm reception by audience and expert panel.
Isabella 'Levina' Lueen – Wildfire
If Helene did youthful and Axel went for cool, then Levina stood for sleek. This was a slower, more ballady take on the tune. Again, a very good vocal performance from the young singer despite her voice going briefly hoarse while hitting some high notes. A great finish that received an enthusiastic round of applause. Perhaps the most complete performance overall, Helene seemed to receive some very positive comments from the experts.
The results were as follows:
| | | |
| --- | --- | --- |
| CONTESTANT | ENTRY SONG | RESULT |
| Helene Nissen | Wildfire | eliminated |
| Axel Feige | Wildfire | through to Round 3 |
| Isabella 'Levina' Lueen | Wildfire | through to Round 3 |
Round 3 – the performances and result
Axel Feige – Perfect Life
In Axel's rendition, Perfect Life, sounded as a Big Band-based number musically and thus somewhat in keeping with his earlier stylistic choice of a Bond theme. The song suited Axel's voice and he seemed to be enjoying performing it, highlighting the musical phrases with his delivery. The overall result is classic yet funky. Lena likens this rendition of the song to 2014 Eurovision winner Rise Like A Phoenix.
Isabella 'Levina' Lueen – Perfect Life
Levina went for sleek yet again, yet, this time round, it was pop-rock sleek we were talking about. The lighting for the stage was yet again lit in red and white. The singer looks confident and in command of the stage. The occasional hoarseness was still there unfortunately but the crowd did not seem to mind, breaking into applause even during the performance. The expert panel looked satisfied.
The results referred to both entries sung by the two finalists and were as follows:
| | | |
| --- | --- | --- |
| CONTESTANT | ENTRY SONG | RESULT |
| Axel Feige | Wildfire | eliminated |
| Axel Feige | Perfect Life | eliminated |
| Isabella 'Levina' Lueen | Wildfire | through to Final round |
| Isabella 'Levina' Lueen | Perfect Life | through to Final round |
Final round –  the performances and 2017 entry result
Levina's rendition was, understandly, more relaxed this time round, a beaming smile lighting up her face. The slight hoarseness was back for the rendition of Perfect Life but, this being the young artist's fifth stage performance of the night, this was probably understandable. Her performance was confident and relaxed nevertheless.
| | | |
| --- | --- | --- |
| CONTESTANT | ENTRY SONG | RESULT & VOTE SHARE |
| Isabella 'Levina' Lueen | Wildfire | runner-up – 31% |
| Isabella 'Levina' Lueen | Perfect Life | WINNER – 69% |
It was announced that Levina would represent Germany in Kyiv this May with Perfect Life, which got 69% of the vote!
The show
The show was presented by Barbara Schöneberger in a light-hearted comedic style that included the occasional break into song.
There was an expert jury to comment on each performance as a guidance for the viewers. This consisted of popular German musicians Tim Bendzko and Florian Silbereisen as well as a glamorous looking Lena, the country's 2010 Eurovision winner.
Performances for Round 1 were introduced by videos of each contestant talking about themselves as well as footage from their everyday lives and past musical experience such as public performances.
After all contestants had performed their cover versions, there was a brief look at the way the international app voting was going. A recap of all Round 1 performances was followed by a brief chat of presenter Barbara Schöneberger with the expert panel as well as a cut to the green room for comments by the contestants themselves.
With the voting going on, there was a guest performance by German artist Matthias Schweighöfer. The Round 1 results were followed by video introductions of the competing entries, starting with Wildfire.
After all songs had been performed, all experts appeared to be favouring the two female singers, Helena and Levina as the two contestants that should go through to the next round. Brief looks at the way the international voting was going revealed that Levinia followed by Axel were considerably ahead of Helene.
There followed a performance by expert panelist Tim Bendzko and then recaps of the Round 2 performances before the contestants took to the stage for the announcement of the round's results that saw Helene getting eliminated.
The second competing entry of the night, Perfect Life, was introduced in a video similar to the one used for Wildfire earlier. After both Axel and Levina had performed their version of the song, a brief look at the international viewers app revealed that the two contestants were head to head, at the time having 50% of the vote each.
A Eurovision flashback video took a look at some of the more memorable entries thought the history of the contest, for all the good as well as all the bad reasons.
Before the announcement of the results, a brief poll amongst the audience revealed that most people prefered Levina with Wildfire as the show's winner. Indeed, the results duly confirmed that both of Levina's renditions of the competing songs would be the ones battling it out, the singer thus being the artist going to Kyiv this May.
There followed a video looking into Levina's competition- the 2017 Eurovision entries determined so far. The singer subsequently performed again both Wildfire and Perfect Life.
One of the true highlights of the show were the guest performances by former Eurovision winners Nicole (Germany 1982), Ruslana (Ukraine 2004) and Conchita (Austria 2014). Ruslana sang Loreen's 2012 Eurovision winner Euphoria, while Nicole opted for Austria's 1966 winner Merci Cheri and Conchita for the ballad version of 2010 German winner Satellite.with Ruslana and Nicole joining her towards the end of the song. They received a great round of applause as they were being kissed by an emotional Lena who took to the stage.
You can watch Levina's winning performance of Perfect Life in the following video:
Germany in the Eurovision Song Contest
Germany has participated in the Eurovision Song Contest more times than any other country. Debuting in the first ever contest of 1956, the country has had 60 participations to date, only missing out in 1996 when Germany's submitted entry failed to qualify from an audio-only preselection round that was in place at the time.
The country has won the contest twice, in 1982 with Nicole and Ein Bisschen Frieden (A Little Peace) and in 2010 with Lena and Satellite. Germany has finished second four times, in 1980, 1981, 1985 and 1987; it has been widely speculated that the country also finished second in 1956 however, either than Switzerland announced as the winner that year, an official scoreboard was never published for the first ever contest. The country has also ranked third on five occasions: in 1970, 1971, 1972, 1994 and 1999. The 1970, 1971 and 1980 rankings, all attained by Katja Ebstein, make her the only artist to have ever achieved three top-3 results without winning the contest.
Under the current system, Germany is part of the Big 5 countries (along with the UK, France, Italy and Spain) that automatically qualify to the Eurovision Song Contest Grand Final without having to compete in the semi-final stage. Last year in Stockholm, Germany finished last for a second year in a row. Could Levina change the country's recent streak of bad luck in Kyiv this May?