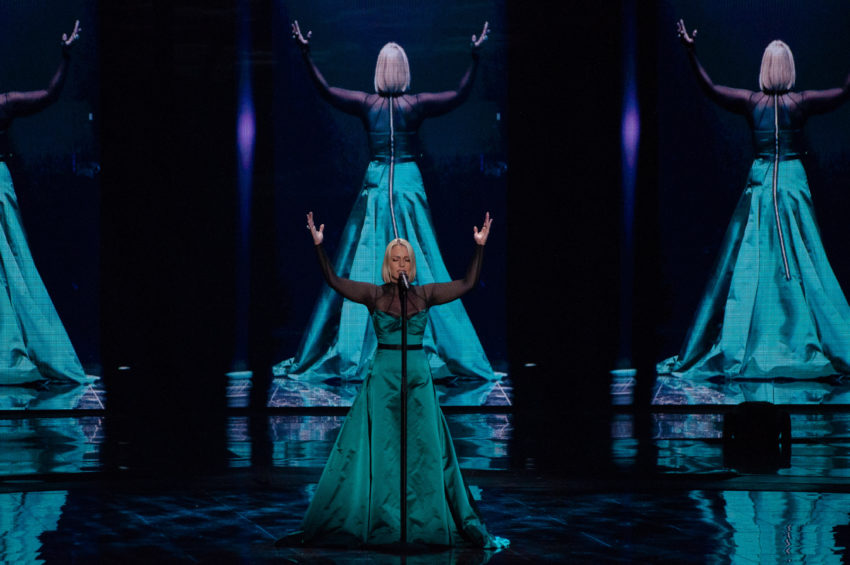 North Macedonia's Eurovision darling Tamara Todevska now finds herself in a difficult situation in her native country. Yesterday, she performed the country's national anthem quite different from the original version – a version, she today apologised for.
During the celebration of the American Independence Day in the US Embassy in Skopje, Tamara Todevska performed North Macedonia's national anthem, but left out the verse which mentions the names of Goce Delcev, Pitu Guli, Dame Gruev, Sandanski, who in the past were fighting for the countrie's national rewival. This episode coincides with North Macedonia's bitter dispute with Bulgaria over the nationality of Goce Delcev, as Bulgaria claimes that Delcev was Bulgarian.
In the public, Tamara's move was widely seen as deliberate and part of the on-going attempts to rewrite North Macedonia's history with treaties with several neighboring countries which the US Government strongly supports.
Tensions blew up, and today Tamara apologazied for the mistake on her Facebook page, just as North Macedonia's Prime Minister got involved.
Allow me, from the bottom of my heart, to apologize for the mistake I made yesterday. There is no greater honor for an artist than to perform the national anthem, and this is why I accepted the US Embassy invitation. There are no words to describe my sorrow for the omission I made during the performance. Driven by the emotions and the euphoria, unfortunately, inadvertently, I left out a part of the anthem. Again I apologize for the mistake and I hope you will find room in your hearts to forgive me.
The US Embassy in Skopje and North Macedonia's Prime Minister, Zoran Zaev also goes with that Tamara's mistake was unintentional.
We have deep respect for the traditions, history, heroes, and future of our friend, partner, and ally "North Macedonia". We understand that mistakes can unintentionally happen in emotional moments, but thank our singers for their beautiful performances.

US Embassy in Skopje

The Government congratulates to the American people its national holiday, the Independence Day. The pretty events which the US Embassy holds on this ocassion are an excellent opportunity to express mutual respect and deepen cooperation between the two countries and peoples. The Government was notified by the US Embassy and by the anthem performer Tamara Todevska that there was an unintentional mistake during the performance of the anthem, and of the assurances of the highest levels of respect for the Macedonian tradition and heroes.

North Macedonia Prime Minister Zoran Zaev

Sources: Republika.mk