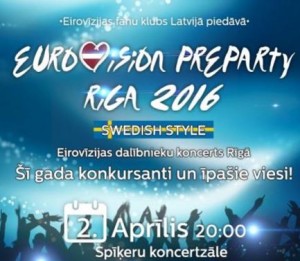 When Riga's concert hall Spikeri on the 2nd of April open the doors to its pre Eurovision party, it is with a line up that offers several of this year's participants, but also guest performances from among others the 1984 Swedish winner trio Herreys.As a warm up to the Eurovision Song Contest, several preview parties across Europe are being held in April, just before the artists leave for two weeks of Eurovision rehearsals, press conferences and of course the three live shows.
This year Riga is the first of the "big4" preview parties to kick off. The open the doors to a big party on the 2nd of April. Confirmed so far are four of this year's participants:
Justs representing Latvia
Rykka representing Switzerland
Ivan representing Belarus
Dalal & Deen feat. Ana Rucner and Jala representing Bosnia & Herzegovina
Besides the 2016 participants the guests attending will also be able to join the Swedish 1984 winners Herreys and the band Schlagerfeber.
To attend the party in Riga, which is organised by the Latvian OGAE fanclub, tickets can be purchased at the Latvian ticket provider Bilesuserviss for the price of 12 euros each.