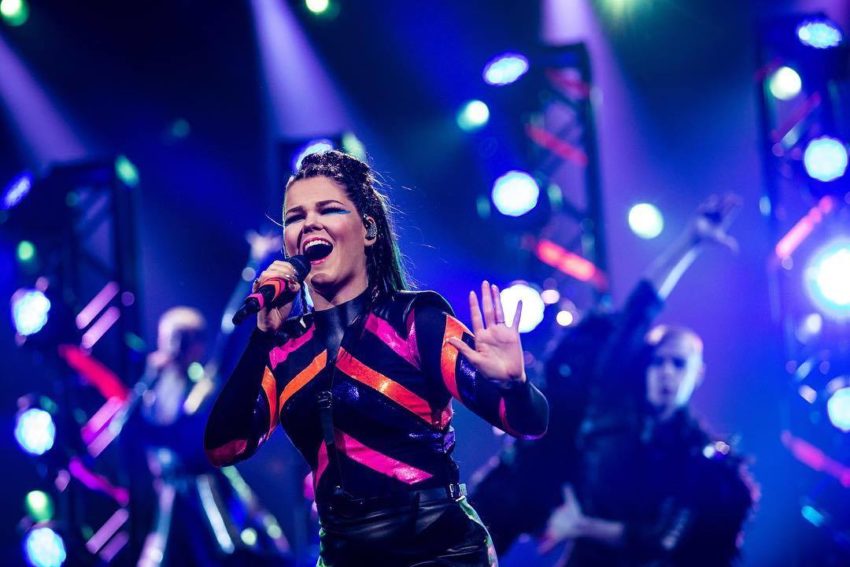 Tonight, was the hotly anticipated Finnish National selection for the 2018 Eurovision Song Contest. For the last six years UMK has been held to find the Finnish representative, this year, for the first time, there is one artist and a choice of three songs.
Finland has had mixed fortunes in the Eurovision Song Contest, finishing last on no less that nine occasions, four of which were the dreaded ''nul points''. They have also had one of the biggest and most memorable wins in the contests history, when Lordi won with Hard Rock Hallelujah in Athens 2006.
The Show
The show started with a high energy performance by Finnish 2013 representative Krista Seigfrids. In it, she refers to divas such as Shakira and Beyoncé while giving a nod to Eurovision 2018 host country by parodying one of their more well known songs from the last few years, Suzy's Quero Ser Tua.
We were then introduced to one of the International jury members, William Lee Adams from Wiwibloggs, as well as special guest star mel C from 90's Britpop band Spice Girls.
Saara performed three songs penned by a collection of songwriters, none of which are strangers to the Eurovision Song Contest, and it's national finals. Each of the three songs take on a different genre of music and highlight the different strengths that Saara has as both a singer and performer. Saara has also been credited as a songwriter on all three potential entries.
Brian Friedman alongside Canadian Lukas McFarlane is the choreographer and artistic director for each of the stage shows, and his flare was definitely present. All three songs were staged in his signature camp and high energy style, like many performances we have seen on The X Factor UK.
Monsters
She starts off in a curtain closet, a symbolic one maybe? then breaks free into the big chorus and taking off a long black coat to reveal a multi-coloured jumpsuit and leggings. Saara shows of her professional performance skills, with a fantastically choreographed routine to this EDM 'banger'. You can tell she enjoys performing this song, and the enthusiasm is infectious. This is the fan favourite and many are already adamant that this is the winner of the competition and it did get the biggest cheer when all three songs were referred to.
The song was co-penned by Joy and Linnea Deb who wrote Eurovision 2015 winning song Heroes, as well as ex-Busted boyband member Ki Fitzgerald, son of Scott Fitzgerald, U.K's 1988 Eurovision representative.
After the first performance we took a trip to the green room to talk to the songwriters, before heading backstage to see what Saara thought of her first performance and chatting to her fiancé Meri.
Domino
The second performance tonight is Saara's take on a contemporary ballad, not too dissimilar to that of Sia's Chandelier, a song she is famous for covering during The X Factor UK. Standing on a plinth made of a domino, Saara performs this powerful ballad with a lot of emotion, something she is no stranger to doing. The dominoes behind her fall one by one, leaving one domino standing which she then stands in front of before she is turned 360 degrees. This is an assured performance and gives the vibe of Dami Im's Sound of Silence.
Co-wrote by Eurovision heavyweights Thomas G: Son and Bobby Ljunggren alongside Johnny Sanchez who has already been successful in Malta, where his song Taboo won the right to represent the Island nation in Lisbon. One more songwriter is credited on this entry, Will Taylor, originally from the United Kingdom, Taylor has been making waves in Eurovision selections across the continent over the last few years with entries in the Romanian and Icelandic National Finals.
We go back to the Green Room where the co-host has dressed up as Loreen and performs Happy Birthday in the style of Euphoria for Thomas G:son, who turned 50 earlier this week.
Queens
The last song to be presented is also the last song released. Queens is a more mid to up-tempo disco number, many have compared the song to works by Björk, yet I don't feel it reaches that level just yet. Saara seems to start the song in front of a steam train before the choreography sets in and she goes full on into the performance. The Steam train turns around into a giant staircase after she reveals her space age outfit. The song has the least known song writers of the three, although one Tom Aspaul a UK native has written for artists such as Kylie, Little Boots and Saara's friend and X Factor winner 2016 Matt Terry.
If this wins it would be a bit of a surprise for many fans, but Saara performed this with as much enthusiasm and gusto as the previous two and arguably the vocals were best on this song, therefore is not out of the game yet.
While we waited for the results, we were treated to a performance from Mel C, one fifth of the spice Girls. She performed a revamped version of her 2000 smash hit I Turn To You.
We then had the international Jury vote, Monsters took an early lead and stayed their throughout that portion of the voting.
This was followed by a performance with Finish Eurovision 1994 representatives CatCat and a revamped version of their entry Bye Bye Baby.
Results
| | | | |
| --- | --- | --- | --- |
| Draw | Song | Score | Place |
| 1 | Monsters |  183 |  1 |
| 2 | Domino | 159 |  2 |
| 3 | Queens |  138 | 3 |
In the weeks leading up to the final, one song was a clear favourite with Eurovision fans, tonight they were left happy as Monsters took the crown and will be performed by Saara at the first Semi-Final of this year's Eurovision Song Contest.
In the video below, listen to this year's Finnish Eurovision entry:
Saara's career
Saara Aalto came to fame in Finland, when after her time on a show called Talent Finland (2007), she entered the 2011 Finnish national final with a ballad entitled Blessed with Love, finishing second to Paradise Oskar and his gentle pop ballad Da Da Dum.
Her success in her home land continued after that for the next five years, she entered multiple talent competitions including The Voice Finland and the 2016 UMK Eurovision selection. She competed with her now easily recognisable track No Fear.  On both of these occasions again, Saara finished second on the shows.
In the summer of 2016, Saara travelled from her homeland to Edinburgh to audition for Simon Cowell, Louis Walsh and Nicole Scherzinger in the original version of the now, internationally renowned talent show, The X Factor. The competition was devised by Cowell in the early 2000's and since 2004 has produced top artists such as Leona Lewis, One Direction and Little Mix.
Saara had a bumpy ride on the show, but she ultimately made it to the final of the competition were again, she had to settle for second place behind eventual winner Matt Terry. Since her success in the United Kingdom she moved to London and started recording tracks for her debuted album with international artists such as Sia.
Due to her international exposure, she was offered the opportunity to become a judge on the Finnish version of The X Factor. She is currently and arguably the most well-known Finnish music artist outside of Finland. Ultimately this is why YLE has given Saara the opportunity to represent her country at this years Eurovision Song Contest, a dream she has had since a small child.