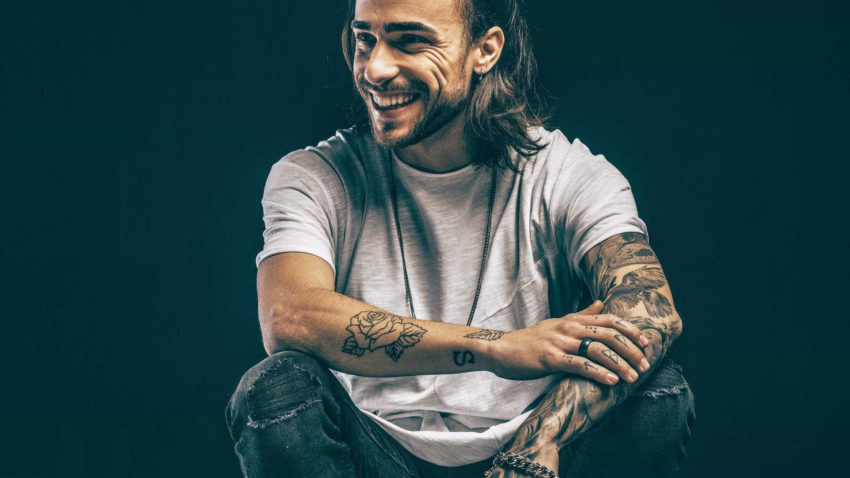 Without surprises, Diogo Piçarra won the second semi final of Portugal's national selection. Along with him, six more acts are now heading to Guimarães for the show's Grand Finale where the 14 finalists will perform one last time.
Update: Two days after Diogo's victory, the singer was accused of plagiarism and quit the competition making room for one more finalist.
Portugal is now a week away from finding out who will represent the country at this year's Eurovision Song Contest to be held in the country. Out of the 13 competing songs, seven more made the cut during the show's second semi final and will now join the first semi final's qualifiers in Guimarães at Festival Da Canção's Grand Finale.
As expected, the most popular act – Diogo Piçarra – is amongst the qualifiers and was the winner of this semi final with A Canção Do Fim that scored 12 points from the judges and from the public.
The Show
Last week, men were in charge of the show's presentation but this second semi final was dedicated to the ladies as two women were the hosts: Sónia Araújo and Tânia Ribas de Oliveira. Held in RTP's studios in Lisbon, the show lasted once more for approximately three hours.
After a quick introduction, the two hostesses opened the race and the 13 acts performed one after the other. After roughly an hour later, the lines were opened and the public started voting for their favorite songs. While the voting was opened, a tribute to Carlos Paião (Portugal, 1981) took place during the show and Portuguese icon, Herman José, took the stage for a performance.
Just like last week, the decision on which songs would make the cut was divided by the public and by the jury.
The Songs
1. Maria Inês Paris – Bandeira Azul
Kicking things off with a few sound issues – RTP to blame – was Maria Inês Paris. Joined by four main instruments, Maria performed a quite smooth song highly influenced by African music. Maria had the chance of repeating her performance.
2. Dora Fidalgo – Arco-Íris
In a suit, Dora Fidalgo – part of Da Vinci (Portugal, 1989) – started her performance with a black and white effect that only lasted for a few seconds. Arco-Íris is hard to define as it doesn't exactly fit in a genre and features different elements and instruments.
3. Sequin – All Over Again
The first English song of the night. Despite having a quite electronic sound, Sequin seemed to lack energy to follow up with the tune. On top of that, her stage was too empty and lifeless.
4. Diogo Piçarra – A Canção Do Fim
Diogo decided to sing about today's society and give his opinion about it. With a touching song, Diogo proved why he is the favorite to win the entire show.
5. David Pessoa – Amor Veloz
Amor Veloz is another love song that featured a lot of Jazz influences. Nonetheless, the performance was way too simple to cause any impact on the viewers.
6. Tamin – Sobre Nós
In a red dress, Tamin performed the dramatic Sobre Nós, a love song that could be included in a James Bond soundtrack as it is highly influenced by Soul music.
7. Cláudia Pascoal – O Jardim
Despite her pink hair, Cláudia was able to focus the momentum on the song as it features a quite minimalistic electronic sound. It is yet another heartbreak song but in a rather unusual way.
8. Minnie & Rhayra – Patati Patata
Africa was well represented at this second semi final of Festival da Canção. The duo brought some diversity and surely a small party to the stage that was being used solely by ballads and midtempos.
9. Rita Ruivo – Anda Daí
Rita Ruivo performed another upbeat song yet the singer may have lacked energy and skills to give this happy song the boost it needed. Anda Daí features an empowering message.
10. Susana Travassos – Mensageira
In a long red dress, Susana dares her lover to leave without her. Despite the sad and strong lyrics, Susana's way of singing doesn't allow anyone to feel exactly sad.
11. Lili – O Voo das Cegonhas
Maybe the most out of the box song and voice of the entire competition. Lili brought alternative and underground sounds back into the competition with a few Pop influences. One can easily think of Lana Del Rey.
12. Daniela Onis – Para Lá Do Rio
Fado was again represented in Festival da Canção's second semi final. This time not with Peu Madureira but with Daniela Onis that may have been done it in a more traditional way.
13. Peter Serrado – Sunset
Back to English, Peter Serrado was joined by a guitar. The song could easily be heard on the radios as it resembles the music style performed by Pop superstar, Shawn Mendes.
The Results
As mentioned, 50% of the decision was up to the judges while the remaining 50% up to the public. Take a look at the voting breakdown:
| | | | |
| --- | --- | --- | --- |
| Act | Judges Points | Public Votes | Total |
| Mara Inês Paris | 7 | 5 | 12 |
| Dora Fidalgo | 0 | 0 | 0 |
| Sequin | 0 |  0 | 0 |
| Diogo Piçarra | 12 | 12 | 24 (quit) |
| David Pessoa | 5 | 4 | 9 |
| Tamin | 6 | 2 | 8 |
| Cláudia Pascoal | 10 | 10 | 20 |
| Minnie & Rhayra | 4 | 6 | 10 |
| Rita Ruivo | 0 | 1 | 1 |
| Susana Travassos | 8 | 0 | 8 |
| Lili | 3 | 7 | 10 |
| Daniela Onis | 2 | 3 | 5 |
| Peter Serrado | 1 | 8 | 9 |
After Diogo Piçarra's departure from the competition, a new entry qualified. That was Susana Travassos' Mensageira.
Portugal at Eurovision Song Contest
This year will mark the 50th participation of Portugal in the Eurovision Song Contest. Having participated this amount of times, only last year Portugal won the contest for the first time with Salvador Sobral's Amar Pelos Dois.
Even though it found great success with Salvador, Portugal hadn't yet had a really successful entry this decade. Not only the country didn't take part in 2013 and 2016 due to its poor results, but it failed to qualify every other year aside from 2010 with the song Há Dias Assim. This year's act is yet to be selected. Nonetheless, you can now watch Diogo Piçarra's performance of A Canção Do Fim in case you missed it: