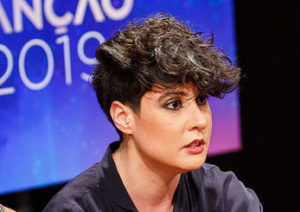 The second semi final of Portuguese selection Festival da Canção took place tonight. Four more hopefuls have made it through to the country's Eurovision 2019 national final next week.
This year marks the 51st edition of Festival da Canção, Portugal's customary national selection for the Eurovision Song Contest.
There were eight hopefuls competing tonight for the four remaining places in next week's Festival da Cançao 2019 final. They will be joining Ana Cláudia, Calema, Conan Osíris and Matay, who got the ticket to the final during last Saturday's first semi final.
The show
Tonight's show came from the Lisbon studios of Rádio e Televisão de Portugal (RTP). It was  hosted by two male presenters, José Carlos Malato and Jorge Gabriel, in contrast to last week's two female hosts. A live audience surrounded the stage on all sides within a medium-sized RTP studio.
In the first hour of the show, the eight contestants got to perform their songs. The entries were introduced by postcard videos showing each act visiting places of interest in and around Portimão, the Southern Portuguese town that will host next Saturday's final.
There were links to the greenroom, where actress/presenter Inês Lopes Gonçalves interviewed the contestants and the creators of the entries.
After all songs had been performed, there were comments by the jury. One of the jury members was Isaura, creator and co-singer of last year's winning song O Jardem that went on to represent the country on home ground in Eurovision 2018.
The interval act was folk band Kumpania Algazarra, whose musical influences include Portuguese, gypsy, Arabic, Ska, Latina, Reggae and Balkan sounds. A pleasant surprise occurred when past Eurovision participant Manuela Bravo joined the band to sing her 1979 entry Sobe, Sobe, Balão Sobe.
The jury votes were subsequently announced by the head judge, TV presenter and entertainer Júlio Isidro. There followed the two presenters announcing the televoting results. The show ended with a recap of the four qualifiers and all participants joining onstage.
The song performances
Lara Laquiz – O Lugar
This was a quirky, mid-tempo electronic pop song. Lara appeared centre-stage with a female and male dancer, all dressed in black, with Lara herself wearing a wide brimmed hat and a strapless frock that hinted to folk Portuguese dress. As the performance progressed, it appeared as if the singer was standing on a raised podium hidden under her dress.
There is a beautifully understated, contemporary feel to O Lugar. The catchy backing vocals during the chorus and the characteristic staging added some memorability but it would have to step up its game to be a Eurovision contender.
Dan Riverman – Lava
One is instantly hit by Dan's husky voice in what starts as a piano-based ballad. In his brown waistcoat, the singer was joined onstage by a pianist, an electric guitarist and a keyboards player.
Electronic fillers were introduced later on and the overall effect, though agreeable, might be a little subdued.
Mariana Bragada – Mar Doce
The presentation started with Mariana centre-stage and dramatically sub-lit in blue. The proper lights came on to reveal she was barefoot in her white and yellow striped dress and matching hair band. Three female vocalists dressed in black stood behind her.
This is an atmospheric, stark song based on guitar and vocals. Indeed, there are beautiful harmonies and the overall effect is quite sweet but the melody line, though distinctly Portuguese, might be found to be lacking flow by a wider Eurovision audience.
João Couto – O Jantar
João was wearing his characteristic round glasses, a smart casual blue suit, striped top and white trainers. He was joined by a male and two female backing vocalists.
For a change, this is a rhythmic mid-tempo song. There is an acoustic, live session feel about it. On occasion, the backing vocals  and drum beats give this a 1960s feel.
Madrepaz – Mundo A Mudar
Six people were onstage. The two main vocalists sit in the middle playing their guitars. There were a drummer and a keyboard player providing additional vocals as well as two female vocalists at the back, against backdrop impressions of trees.
Quirkiness was back with another guitar-based mid-tempo entry. The vocals and beautiful, tranquil harmonies took centre-stage in a combination of folk and more contemporary elements.
The group were still sporting paint around their eyes and the concept of their makeup hinted to a colourful take on the makeup popularly associated with attendees of the Mexican Day of The Dead celebrations.
Somehow, the music and the visual came together nicely.
Surma – Pugna
The act opened with the stage dramatically sub-lit, with spotlights creating white shafts of light. This is a really quirky number with atmospheric electronic echoes reverberating all along.
The singer herself took quirkiness to a new level, both with her vocal style, which turned almost into a whisper on occasion, as well as her look of short blonde hair, dark makeup and black hooded top, which she combined with trainers. She was joined by two backing vocalists. The characteristic element of the staging however were two dancers who moved ghost-like in what looked like an interpretative choreography. The performance ended with everyone onstage slowly falling to the floor.
Mila Dores – Debaixo Do Luar
Mila, in a white evening gown, was at her piano. Two backing vocalists were also onstage.
This is a slow ballad with some atmospheric electronic backing. The sound got more jazzy as the performance progressed and Mila left the piano to carry on her performance centre-stage.
NBC – Igual A Ti
The singer appeared walking towards the centre of the stage lit in red light from behind. He was wearing a chequered suit and was very confident and animated during his performance.
This is yet another ballad, though more intense than anything else so far, conceptually reminiscent of Cesár Sampson's Nobody But You, the Austrian entry last year.
The 2nd semi final results
There was a tie for fourth place between Mariana Bragada and Dan Riverman. In the end, it was the jury who decided to give Mariana the ticket to next Saturday's Portuguese final. The full results were as follows:
| | | | | | | | |
| --- | --- | --- | --- | --- | --- | --- | --- |
| | Artist | Song | Jury | Televote | Total | Place | Result |
| 1 | Lara Laquiz | O Lugar | 3 | 3 | 6 | 8th | |
| 2 | Dan Riverman | Lava | 7 | 8 | 15 | =4th | |
| 3 | Mariana Bragada | Mar Doce | 8 | 7 | 15 | =4th | QUALIFIED |
| 4 | João Couto | O Jantar | 5 | 5 | 10 | 6th | |
| 5 | Madrepaz | Mundo A Mudar | 6 | 10 | 16 | 3rd | QUALIFIED |
| 6 | Surma | Pugna | 12 | 6 | 18 | 2nd | QUALIFIED |
| 7 | Mila Dores | Debaixo Do Luar | 4 | 4 | 8 | 7th | |
| 8 | NBC | Igual A Ti | 10 | 12 | 22 | 1st | QUALIFIED |
The Festival da Cançao 2019 final lineup
The full lineup for the Portuguese final on 2nd March has now been determined as follows:
| | |
| --- | --- |
| Artist | Song |
| Ana Cláudia | Inércia |
| Calema | A Dois |
| Conan Osíris | Telemóveis |
| Matay | Perfeito |
| Mariana Bragada | Mar Doce |
| Madrepaz | Mundo A Mudar |
| Surma | Pugna |
| NBC | Igual A Ti |
Portugal at the Eurovision Song Contest
2019 will mark Portugal's 51st participation in the Eurovision Song Contest.
To date, the country has won only once, in 2017, with Salvador Sobral and Amar Pelos Dois, which resulted in Portugal hosting the Eurovision Song Contest last year.
The country has also attained some top ten positions: in 1971 (9th place), 1972 (7th place), 1979 (9th place), 1980 (7th place), 1991 (8th place), 1994 (8th place) and 1996 (6th place).
Being the host country, Portugal automatically qualified for the Grand Final last year, though only ended in 26th (and last) place.
In my view

This was a well-rehearsed, well-lit and well-directed show. The music, too, was pleasant in the alternative, understated way that one has normally come to expect from Portugal over the years. Given that this was a Eurovision selection heat however, some more stand out numbers would not have gone amiss. At two hours long, this type of event could have benefited perhaps from being a little shorter, too.

The opinion expressed in "In my view" are those of the author and are not necessarily the one of EuroVisionary.com.