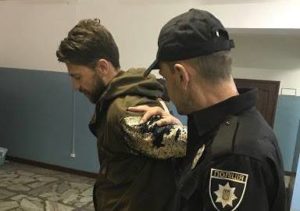 We all gasped on Saturday night when during Jamala's performance a man jumped on the stage and mooned the audience. This guy is a famous Ukrainian prankster called Vitaliy Sedyuk who has travelled the world performing pranks on the rich and famous, but this time he is in trouble.
The man with the most famous bum in Europe has been revealed. On Saturday night, Ukrainian Prankster Vitaly Sedyuk stage bombed Jamala dressed as an Australian fan. After already receiving the wrong kind of attention from the authorities. it seems like Vitaly might have gone a step to far as he could face anything from a fine to up to 5 years prison term.
Sedyuk was immediately arrested after the incident and Ukraine's Minister of International Affairs, Arsen Avakov confirmed this on a Facebook status, as well as boasting. "In the meantime.. this disgrace to the country will be able to exercise his "Hobby" in a prison cell temporary holding facility. Really show your ass out there, enjoying your companions "Hobby" – I wouldn't recommend it" Avakov boasted further by uploading photographs of his detainee.
Some of you may have seen Vitaly before, In 2013 he tried to accept Adele's Grammy award, he was later arrested and charged for the incident and was given a six month suspended sentence. He was also slapped in the face by American actor Will Smith when Sedyuk tried to kiss him the year before. There have been many other pranks of the likes of Kim Kardashian, America Ferrera, Bradley Cooper and Leonardo Dicaprio.
It was revealed by British newspaper The Sun that Sedyuk once worked for Ukrainian TV Channel 1+1 but was fired due to his escapades.
In 2010, Eurovision, held in Oslo, also faced a stage jumper as legendary Jimmy Jump interrupted the Spanish act during the live show. He was removed and Daniel Diges were allowed to perform again. Jump was fined 2000 euros for his action.