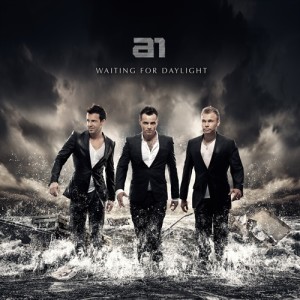 Originally a foursome, then a threesome, A1 enjoyed considerable success in the late 90's/early 00's. They eventually disbanded, but decided to regroup after a chance appearance on a popular TV show. The reformation gained momentum from there, culminating in their attempt to represent Norway at this year's Eurovision Song Contest.
Oddly enough, their newest release, Waiting For Daylight, hasn't been rush released off the back of their success in MGP. The sound of the album itself is a marked departure from their earlier material, with a decidedly more mature sound.
The album opens with a jaunty number, It Happens Every Day, with clear aspirations to the rock/pop genre, uncannily reminiscent of A-ha at their peak. The track packs some punch with an extremely hummable chorus. Track number 2, Don't Wanna Lose You Again needs no introduction. Melodic, contemporary and with a driving rhythm, it would have been a much better at this year's Eurovision Song Contest. A fresh sound, with a great production. Next up is In Love And I Hate It, another toe tapping crowd pleaser. Not exactly musically challenging, this one has an immediate and definite teen appeal. Christian takes turns with Ben on singing about the difficulties of being in love, something we can all relate to. Vocals veer towards Coldplay in places.
Bad Enough is up next, broaching the subject of wanting somebody back. Heavily electronica led, yet another track that is at once very familiar, but which quickly becomes repetitive. Nothing In Common is yet another track about love, this time break ups and regret. Beginning quite darkly, it soon bursts alive into pounding beats and another well crafted chorus. Take You Home was the first single from the album, with a similar intro to Don't Wanna Lose You Again. Punchy and gutsy vocals with a slightly raspy edge can't fail to grab hold of the listener.
Six Feet Under, despite the morbid title is yet another piece of well honed pop perfection, with convincing falsetto vocals which would make Morten Harket proud! Another fast paced number which doesn't let the album down. On Good Things Bad People, we're met with another joint vocal effort, and this track has clear musical references to the 80's but with a much more modern packaging. Perfect Disaster is not as immediate as previous tracks and is slow at gathering momentum. With a melancholic sound to it, it's one of my clear favourites on the album, building nicely once it gets going.
The Life That Could Have Been is perfect album filler, with suitably accessible lyrics and an unchallenging melody, featuring some female vocal, a welcome addition. Out There is similar in structure to many of the other tracks, sweet enough, but perhaps too anonymous to be considered as for single release. Still, not a bad effort though. The title track, Waiting For Daylight brings the album to a worthy close, the album's only ballad, surprisingly enough. Lusciously arranged, it deals with some of the emotions you experience following a break up and sounds very poignant. A definite grower, with an unexpected twist towards the end.
The track listing is as follows:
It Happens Every Day
Don't Wanna Lose You Again
In Love And I Hate It
Bad Enough
Nothing in Common 
Take You Home
Six Feet Under
Good Things Bad People
Prefect Disaster
The Life That Could Have Been
Out There
Waiting For Daylight
The album could easily have become a cliché in A1's quest to make the transition from boyband to manband. It could also have quickly become a shoddy piece of work in an obvious attempt to cash in on their newly revived appeal, but gladly the group have turned out a solid effort, which may surprise many with their new, mature sound. Doubtful as to whether the album will bring them international recognition, but if there's any justice in the world, then Waiting For Daylight should open up a whole new fan base to the group while at the same time offer plenty of nostalgia and material for existing fans. My only gripe is that the tracks are all quite similar in style, it would have been great with a little variation, just to show the public what A1 are capable of.
Links