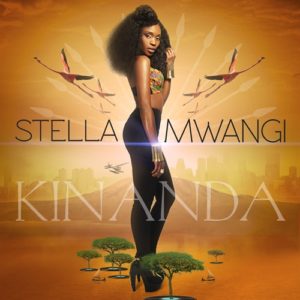 Anyone in search of a continuum of Stella's infectious Haba Haba will no doubt be bitterly disappointed. It's difficult to pinpoint exactly what Stella wishes to achieve with this, her second album.
Whereas Kinanda bears a Swahili name, the expecations of colourful tribal rhythms make no appearance on her latest offering except on the first track. It's no secret that Stella's music career began immersed in the hip hop genre, so Kinanda is either an attempt on her part to reconnect with her origins or to distance herself from the music that Haba Haba stands for.
Kinanda kicks off with what has come to be her signature tune in Norway, the deliriously happy and upbeat Haba Haba. One of the floor fillers in Düsseldorf's discos, the song has a noticeable summery vibe which should make it a dancefloor hit until autumn at least. Track two is the hybrid Take My Time, which features pseudo african references paired with a light techno sound over a monotonous loop of a beat. A little too much vocoder effect ends up giving Take My Time a flat, one dimensional sound. Next up is Hula Hoop featuring Mohombi which sees Stella foray into club territory, alluring to the sounds of for example Beyoncé, Missy Elliott and so on. But the similarities stop there, unfortunately. This third track soon turns becomes repetitive, sounding like an anaemic version of aforementioned singers. Not even Stella's half hearted attempt at rap manages to lift the song, to be honest it sounds as if she can barely be bothered.
On Dance In The Rain gives the album a much needed highlight, with a decent hook and an actual melody. The only criticism here once again is that you hear that Stella's voice is clearly masked by the omnipresent use of vocoder once again. On the upside, Stella's rap vocal seems to flow much better and seem less stilted here. Continuing onto Hello, track number five, the tempo slows down slightly with a much cooler, sparse hard dance/eurodance sound.  Up next is Lookie Lookie, the seconds single to be taken from the album. Yet another outing into clubland, this track is playful, with Stella's deadpan vocals spread over a repetitive groove that is actually catchy. Combined  with suggestive rhythms, this makes Lookie Lookie an accessible dance track and one of the more commercially viable offerings on Kinanda. On Copy My Swang, Stella once again takes on a tougher, more streetwise persona, with an ensnaring backing track that gives associations to Bhangra or Arabic music. Trying to muster attitude makes this track one that you'll either love or hate. Unfortunately to this listener, it became uninteresting after about 30 seconds into the song.
Next up is Next Flight, a much more dance friendly offering, with a base melody that sounds uncannily like LL Cool J's I Need Love in places. Another track with sparse instrumentalization, this somehow works with the chorus which Stella chirps, in some way all the elements of the track seem to gel well together, giving a credible sound. Track number nine, Smile falls unfortunately into the unmemorable category of numbers on Kinanda. Despite a more dance friendly beat (ie not manic), this is unfortunately insufficient to mask the complete lack of a decent tune. Still, not the worst rap to be heard on the album. The hook threatens to take hold at times, but never quite manages it, simply drowning in the overproduction of the song.
No, we're not being treated to a version of The Lion King's Hakuna Matata here. It is yet another track in the eurodance vein. Meaning No Worries, I'd say Stella has plenty to be concerned about at this, yet another instantly forgettable number, where the rap verges on the bland and boring, to be frank. Throw Me a Ladder is next up, with a sound not quite as aggressive as previous numbers. The presence of male vocal in the hook help to break up Stella's rap, and with a variation in rhythms, this track is one of the more stronger to feature on the album, with an altogether more softer R&B meets hiphop sound.
Purse, the penultimate number has a simple backing melody which provides a backdrop for Stella's rapping. Things look up here however, thanks to the chorus which has more than an element of Kelly Rowland's Dilemma. A much more relaxing feel brings the pulse back down to normal pace, but oddly enough it's the vocal (not Stella's) that makes the track a success. The album is brought to a close with the karaoke version of Haba Haba. Just why this version was included on Kinanda remains to be seen; possibly a shrewd marketing ploy to help sell the album, which, let's face it, needs all the help it can get.
This could have been a joyous outing, had it featured a little more authenticity and a lot less of the synthetic, but unfortunately Kinanda ultimately fails to impress. No doubt it will find its fans, but this is certainly not something for the mainstream. Call me old fashioned, but I prefer something slightly more melodic  and a lot less robotic. Sorry Stella.