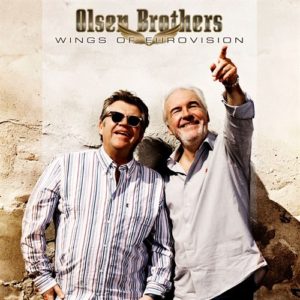 It is ten years ago Denmark won the 2000 Eurovision Song Contest. The Olsen Brothers are celebrating that with a brand new album with Eurovision cover versions. On some songs they are true to the original while they on others comes up with a brand new arrangement. It works very well and we are asking for a volume 2.
On many previous Olsen Brothers album Jørgen has been so much in focus that it was hard to see what Noller was actually doing there. The power balance has changed and on this album they are more equal. It suits them very well just as it suits them to try so different Eurovision Song Contest songs as they do here. Due to the songs being so different I think it is only fair to look at them individually.
1. Bang-A-Boomerang: We start out with a national final song that didn't make it to the Eurovision Song Contest song. Svenne & Lotta came third in the Swedish selection in 1975 with this song that was afterwards recorded and sung by ABBA, who also wrote it originally. It is quite smart to start with this song as it works as a really good opening that suits the Olsen Brothers' voices quite good. This version is quite true to the original though it has been added the little "artistic pause" Fly On The Wings Of Love also had.
2. Love Shine A Light: Here we come to something completely different. This 1997 Eurovision Song Contest winner from United Kingdom has been put down and is slower in the Olsen Brothers version. Noller sings solo on most of the song and his darker bas voice is quite unusual on such a song. The slower speed almost makes it sound like something that can now be heard on a football stadium. Near the end of the song Jørgen joins on the chorus and the song immediately grows.

3. Hallelujah: The Olsen Brothers have completely changed the arrangement of this 1979 Eurovision winner.  Noller sings again, this time in a duet with Lill Babs who represented Sweden in 1961. The song has gotten a jazz arrangement and this unusual version actually sounds better than the original! It is nothing else than fantastic what the Olsen Brothers came up with here.

4. What's Another Year: Here Noller and Jørgen both sings. The song is quite true to the original, but with a bit more saxophone added it does get a slightly more jazzy sound. The song has been given a saxophone solo in the beginning and in the middle.

5. Rock'N'Roll kids: Jørgen has previously said that this song might as well have been written by him as it tells his story as he would have told it himself. You can hear on Jørgen's voice that he feels something for this song. The song has more instruments on it than the original, but it doesn't hurt as they really hit the melancholic touch of this song.

6. Now it gets interesting as we all know that they would not be able to keep the ABBA speed. When ABBA in '74 finished the song the Olsen Brothers in 2010 would barely be through first verse. It has been made a bit slower, but not so much. So hands up for the Olsen Brothers who has more energy than I thought although they do cut short on some of the notes. It is however clearly not a song that fits them quite well.

7. Ein Bisschen Frieden: Noller starts out with first verse. Then Nicole comes in with a solo bit and then Jørgen and Nicole sings the chorus. It sounds later like Jørgen more or less takes over the song. It starts out with an instrumental intro where you can barely recognise the song and unfortunately there is too many instruments on this song. From a simple song to be it appears like they made it a bit too heavy – they do sing well in German, but it has to be added that they have recorded several albums in German as they were quite popular in Germany in the early '80's.

8. Save Your Kisses For Me:  This version has gotten a quite different intro with a nice guitar riff which actually suits it quite well. It is not nearly as light and sparkling as the original though. With the tempo this version is in, it would have been smart with a string section added. Maybe Alexander Rybak should have been invited to Copenhagen for the recording of this version?

9. Let It Swing And Let It Rock'N'Roll: Another song in a high tempo. They sing this Norwegian winner in English as the title indicates. Jørgen caries this song through as he always does with the faster songs and he actually manages quite well. The song is quite a rock and roll song now and we are no longer in the 80's, but instead back to the 60's. You could say that this is quite the boogie rock style we know from Status Quo.

10. No So Che Darei: Here Alan Sorrenti sings along with them and Jørgen has told how Alan worked as their Italian teacher as well as they wanted him to make sure that they got the right pronunciation. Very well done. There are a few places where their voices drowns a bit in the guitar sound, but all in all a very good version quite true to the original, but you can hear that both Jørgen and Alan has to stretch their voices now that they have gotten older so maybe they could have put it a slightly bit down.

11. Congratulations: This version has been put quite a bit down and from time to time you don't even recognise the original UK entry from 1968. A guitar is carrying this version through and that does make it quite different. It is mainly Jørgen singing, but Noller sings in the background and that does appear a little bit disturbing to the song.

12. Fly On The Wings Of Love (2010 version): This new version of their own winning song has more drums on the intro, it is slower and maybe even a bit more raw in it. It is not nearly as romantic as the Eurovision winner, but instead more rough. It doesn't make it worse, just different. It is good to hear that they have made a new arrangement of their own song and didn't just record the same song 10 years after.

13. Smuk Som Et Stjerneskud (2010 version): Same arrangement as before, but I have to add that it sounds different due to this version being in Danish. Jørgen's voice gets a more romantic feeling to it in this Danish version, whereas it is a bit rougher in English.
Conclusion: Quite a fine album which is worth adding to the collection for any Eurovision or Olsen Brothers fans. I would say that it should be rated somewhere between 3,5 and 4 stars. As we don't operate with three fourth of a star I choose to then give it 4 stars. They deserve a bit extra for having the courage to pick such different songs and to come up with quite some different arrangements. It is a very good album and we will be looking forward to a volume 2 as a show that has lasted more than 50 years certainly can do with more than 12 songs in an Olsen Brothers cover version. If they need inspiration I am willing to give them a list of songs they should try.