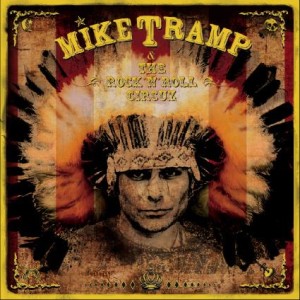 The return back home to Denmark by Mike Tramp, formerly known as Michael Trempenau, has so far resulted in this "come back" album: Mike Tramp & The Rock `N`Roll Circuz. A lot of things have happened since 1978, when he represented Denmark at the Eurovision Song Contest.
Mike Tramp was the lead singer in the Danish glam rock band Mabel, who took part in the Eurovision Song Contest back in 1978 singing Boom Boom. When that band broke up in 1982 he formed heavy rock band White Lion in the USA, with whom he had a lot of success in the 80's. But after some quiet years living in Australia, he now, in pursuit of a more simple life, has moved back home to Copenhagen.
 
The album contains 13 songs in the classic rock style, and two ballads. Mike Tramp reflects on his former life in a bitter sweet way that never turns sour. On track two, All Of My Life, we get a kind of self-portrait from a now grown up man longing for a more stable life such as coming home every night to sleep in his own bed, not recording and touring all the time. But also the good life as a Rock `N`Roll star is praised, as we get to hear in track four, Come On.  A nice Rock `N`Roll tune with a lot of guitars and drums.
Anymore is a soft ballad about breaking up a love relationship, the song contains a really good lyric that's worth listening to, with a bottom line saying try to break up in peace, not in hate (yes I know it's easy to say then hard to live up to).
On tracks seven and eight, No Tomorrow and The Road, Mike Tramp moves back to the hectic days of Rock `N`Roll. The free life with no responsibilities but to yourself and the music and the guys in the band. And it's clear when you listen to his voice that it has been used in every possible rock `n`roll way, but it gives the song the right touch.
Mike Tramp started out singing glam rock, and on Between Good `N`Bad, track ten, we get a twist of it, and a song about a life wasted and messed up in a heavy statement. Personally I don't think that it's Tramps own life, but the string of pearls of musicians who didn't make it.
When She Cries is a lovely simple ballad about the complete change of life when you become a father. Can you live up to the responsibility? Can you and your woman make it as parents?
The album ends with another reflection on life and relationships. To my ears, the song is about all of us being more friendly. Easy said, difficult to always live up to.
All in all a good and convincing album with no bad songs on it. Mike Tramp's voice adds a realistic angle to the lyrics, an adult man with a very clear eye on life. He does not regret his earlier life, but now he wants a change into a more peaceful second part on the planet.  And the band behind him, they know their Rock `N`Roll.