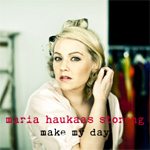 Maria caused a major stir when she was shockingly and unjustly voted off the Idol show back in 2004. Such was her talent that she nevertheless managed to make a name for herself, achieved a good result at the Eurovision Song Contest and is now out with an excellent third album.
It wasn't until 2008 that she hit the big time, when gaining a 5th place for Norway in the Eurovision Song Contest with Hold On, Be Strong. Since then she hasn't looked back. I'll put my hands up and say that her effort in this year's Melodi Grand Prix final was a bit of a disappointment, but then that makes the relief even bigger when she turns out a gem of an album like Make My Day! This is her third studio outing and it is beyond a shadow of a doubt her best work yet (which bodes very well for the rest of her career).
The album gets a flying start with a blinder of a tune, the anthemic and uplifting My Heart Is Singing. You can hear clear references to other songs, but Maria owns this one. After one listen, she had me reaching for the repeat button. On Extra Mile she warbles with the best of them, the tune building in the same style of Leona's Bleeding Love, before breaking out in all it's glory. Next up is Make My Day, which, truth be told is the album's weakest track in my opinion, but that's by no means a bad thing. It shuffles along nicely in a white soul kind of way – you can't help thinking you've heard it before (Kelly Clarkson should sue for plagiarism) but hey, with an album of this calibre, you're forgiven Maria! Cold Souls sees a stripped down production, bringing her classy voice to the fore, in this very moving ballad. Born Again takes us on a trip to Funkville, with a clearly defined nod to Motown featuring a lush piano accompaniment.
Precious To Me is rumoured to be her newest single, and with Måns Zelmerlöw as sparring partner, you can easily understand why. It oozes radio airplay and has HIT written all over it. Infuriatingly catchy, and I'm sure it will be huge both in Sweden and Norway. Save Me swings along at a poppy, jaunty pace with a lethal hook and just the right amount of soul. Trite lyrics such as "I've got a feeling, I'm gonna hit the ceiling" are forgotten when I immerse myself in the catchiness of the song. Get Back sees Maria put on her boxing gloves to get in the ring alongside Duffy and Amy Winehouse, and she croons up there with the best of the nu divas. The album draws to a close with the fragile and haunting Under Repair where she gives an amazing and convincing vocal. A fitting end to a brilliant album.
Track listing for Make My Day:
My Heart is Singing
Extra Mile
Make My Day
Cold Soouls
Born Again
Precious To Me
Save Me
Get Back
Under Repair
Make My Day has been criticized by some for being bland, over produced and devoid of any character, but seriously, it's one of the best albums I've heard in a long time and I'm thrilled to say "Maria, you did good, girl!". So take the plunge and invest in Maria's album – you'll be awfully glad you did.
Buy the album at your CDON depeartment: 
Links