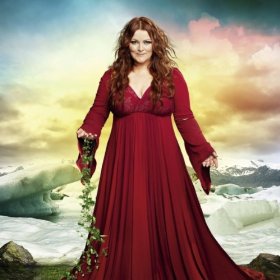 Hera has been one of Iceland's most popular and sought after artists for quite a few years now. Having moved to
Copenhagen, she is also slowly but surely beginning to build herself a wider fanbase in Denmark too.
She wastes no time in taking advantage of the publicity and media exposure that surrounded her participation for Iceland in the Eurovision Song Contest 2010.
Despite turning in a stellar performance, she could still manage no higher than 19th place, which must have been something of a comedown following Yohanna's 2nd placing from Moscow. Her entry Je Ne Sais Quoi was one of the more danceable and chart oriented of this year's entries, proving to be a firm fan favourite.
Her latest album of the same title ventures down a similar musical route. We are treated to no less than four different versions of Je Ne Sais Quoi – the original version, a french version, a ballad version and a karaoke version. Why she hasn't recorded an Icelandic version as most previous entrants have done in the past remains to be seen.
The track listing for Je Ne Sais Quoi is as follows:
1. Je Ne Sais Quoi
2. Waiting For The Night
3. Knock on Wood
4. Natural High
5. Love Trap
6. My Heart
7. Falling Again
8. Because You Can
9. When Everything is Gone
10. Someday
11. Je Ne Sais Quoi (French Version)
12. Je Ne Sais Quoi (Ballad Version)
13. Je Ne Sais Quoi (Karaoke Version)
Waiting For the Night is just as immediate as it's predecessor, Je Ne Sais Quoi, guaranteed to get even the most sluggish party going. Knock on Wood is a revival of the old Amii Stewart classic which she delivers effortlessly. Natural High sees Hera follow on in the trance/eurodance mould, another very catchy number with an infectious chorus. The dancefloor fillers just keep coming, thick and fast. Also featured on the album is her entry from the Danish national final from 2009 Someday – just one listen and you easily understand why the entry did so well to be placed second.
Although the album is highly polished with seamless production and there are a fair number of instantly hummable tracks, perhaps the album's only downfall is the distinct lack of variation within the tracks presented, which is a shame really, as Hera's powerful voice could do with a better showcase. All in all a solid effort which makes me look forward to her future releases.
Links