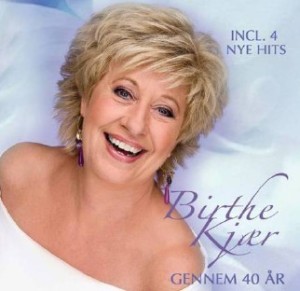 As many will be aware of from the title then this is a greatest hits compilation that shows Birthe Kjær's 40 years as a singer. The CD includes up-tempo songs, beautiful ballads, cover versions and as a bonus 4 brand new songs.
When Birthe Kjær won the Danish final, the Dansk Melodi Grand Prix, in 1989 it was her fourth attempt with all the previous ones resulting in second places, nicknaming her "the eternal number two". With Vi Maler Byen Rød in '89 she finally made it to the Eurovision Song Contest where she secured Denmark a very nice 3rd place, while at some point being close to winning. Two years later she was back in the Danish final, but "the eternal number two" came third!
This greatest hits album features three of her five Grand Prix entries. Unfortunately the first one Du Og Jeg from 1980 and the last one Din Musik – Min Musik from 1991 are left out. But Eurovision Song Contest fans can instead be glad that cover versions like Dinge Dong (The Netherlands 1975) and Parlez-Vous Francais? (Luxembourg 1978) are to be found on this double CD that features 34 songs.
As a special curiosity you will also find Birthe Kjær's version of 100%, which Lotta Engberg sang in the Swedish final in 1988.
Four brand new songs are added as a bonus making it worth buying for those who already have all of her albums. Three of the four new songs are featured on the first CD and it kicks off with one of them; Der Er Ingen Som Dig (There is no one like you). This is an up tempo song that sounds like something that should have been a song sent in for the Danish final 10 years ago. I personally love this style, so for me it is great to see Birthe Kjær back in that field. This song brings her to do what she does best: entertain people and make the audience in a good mood.
The second new song is track number seven on CD1 and here a crime is almost committed. Jasca Richter from Michael Learns To Rock has written the song. He also wrote the 1996 Dansk Melodi Grand Prix winner and is one of the best songwriters Denmark have and this song is a fabulous ballad, but with all due respect for Birthe Kjær then it should have been given to another singer and brought out to a bigger audience. Birthe does deliver a good version, but her voice is simply a bit too sharp for this song.
The remaining two new songs are what I would choose to call "an interesting experiment, but no need to repeat it". Can't Take My Eyes Off You is a duet with Danish singer Peter Frödin. He has a great voice that makes this version interesting, but Birthe and him don't quite match each other. Unfortunately this version appears a lot less credible than other versions of this famous international hit. The last of the four new songs is also the last song on the album – and I am tempted to say that I hope it will be the last time we hear this style from Birthe Kjær. It is called Kysser På Dig and can best be described as Rollo & King in figure of Birthe Kjær. According to the notes Ivan Pedersen and Peter Busborg wrote it, but hadn't I seen that I would have been willing to bet that it was written by Søren Poppe. The entire song simply sounds like 99% of all Rollo & King and Søren Poppe solo material does. It is a decent good song that makes you in a good mood, but it is just not Birthe's style. I know that artists have to develop themselves, also after 40 years in the business and maybe I can get use to hearing Birthe sing Rollo & King material, but can't we start with a cover version of their Eurovision entry Never Ever Let You Go then?
The album is a tribute to her 40 years in showbusiness and it is a great compilation. That two of the four bonus tracks are not to my taste doesn't ruin the overall impression. I would however have wanted all her Melodi Grand Prix songs to be included so leaving out two of them does count down.