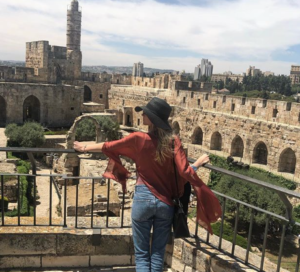 This year's Eurovision participants have been taking a much needed break from rehearsals and performing. Many have been using this free time to enjoy the wonders of Israel.
It has been a busy time for this year's Eurovision participants with rehearsals, press conferences, interviews as well as competing in the semi-finals. It is nice to see that the contestants have been able to take some much needed time off and explore this year's host country.
Italy's Mahmood has enjoyed one of his hard earned days off by enjoying a mud bath at Israel's Dead Sea. It is believed that Cleopatra, one of the most powerful woman in history, was known to bathe in the Dead Sea to rejuvenate herself from her demanding responsibilities. Hopefully Mahmood will feel rejuvenated and ready to take on the demanding responsibility of representing Italy in the grand final this weekend.
---
Nevena Božović from Serbia has been spending some time in the ancient city of Jerusalem. The city of Jerusalem was a contender for host city of this year's contest but lost out to Tel Aviv in the final stages.
---
Russia's Sergey Lazarev has also been spending his free time in Jerusalem. He has been posting a lot of pictures on his instagram of him visiting different places in the host country. In Jerusalem Lazarev visited the Western Wall which is one of the most religious site in the world for Jewish people.Thousands of people travel to the wall every year to visit and pray. These prayers are either spoken or written down and placed in the cracks of the wall. The wall is divided into two sections, one area for males and the other for females. It is permitted for both males and females to be modestly dressed. Males should cover their head while women should have their legs and shoulders covered. As well as visiting Jerusalem, Sergey has also visited the city of Jaffa and spent lots of time around the beaches in Tel Aviv.
---
It's not only Sergey that has spent time in the city of Jaffa. Switzerland's Luka Hänni has also posted pictures on his social media of his visit there. Jaffa is an ancient port city in Israel famously associated with biblical and mythological stories. The city is also famous for it's markets and clock tower.
---
The United Kingdom's contestant Michael Rice along with the rest of the Big 5 members had the luxury of not having to perform in the semi-finals Rice has spent time in Herzliya which is affluent city on the coast of Israel, just north of Tel Aviv. He even managed to squeeze in a ride in a hot air balloon in the host city.