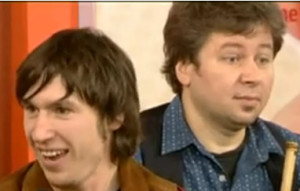 Moldova was one of six countries which selected it's entry for the 2011 Eurovision Song Contest tonight. It featured a couple of artists with previous experience of the Eurovision Song Contest. The show was a bit of a marathon by national final standards, featuring 25 songs. 
Proceedings were held together by Gabriel Coveșeanu and Dianna Rotaru. All the performers on show are familiar faces to the Moldovan public, in whose hands the result partially rested. They would have a 50% say in who will represent Moldova in May, a jury made up the other 50% of the vote. Among the participants were Natalia Barbu (2007) and Zdob şi Zdub, who were the first Moldovan representatives in 2005.
The nineteen hopefuls were:
Natan – Dacă Dragoste Mai E
Natalia Barbu – Let's Jazz
Formaţia "Ion Krasnopolski" – Cu Fanfara Pînă Dimineaţa
Anişoara Balmuş – You And I
Denis Latişev – It's My First Dance With You
Pasha Parfeny – Dorule
Doiniţa Gherman – Viaţa
Corina Cuniuc – Şi Tac
Cristina Scarlat – Every Day Will Be Your Day
Diana Staver – Love Song
Dumitru Socican – Me Pierd Cînd O Văd
Nicoleta Gavriliţa – Just Your Friend
Adriana Voloşenco – I Can Win The Game
Boris Covali & Cristina Croitoru – Break It Up
Ruslan Taranu – Lumina Mea
Milenium – In Memoriam
Odry – Doina, Dor Nemărginit
Karizma – When Life Is Grey
Vadim Luchin & Tamaz Djgarcava – Always
Mariana Mihaila – Mi Rey!
Valeria Tarasova – This Is My Life
Aurel Chirtoacă – Încă Îndrăgostit
M-Studio – Night Reflection
Zdob şi Zdub – So Lucky
Dana Marchitan – Lucky You Lucky Me
Dumitru Socican was in the final courtesy of a disqualification. Singer, Katrina had originally been selected for the final with her song, Solo Por Tu Amor. However, it was found to have been released before the permitted date, so broadcaster, TRM, added Dumitru to the line-up.
The entertainment began with last year's Moldovan representatives, Sunstroke Project & Olia Tira. After the songs had all been performed, the Bulgarian representative for Dusseldorf, Poli Genova, made a guest appearance.
It proved to be a controversial end to the contest. The results of the phone vote produced a clear winner in Karizma. However, the jury gave her a very low score and this allowed Zdob şi Zdub to sneak into first place. So Lucky by name and So Lucky by nature.
Zdob şi Zdub will compete in the first half of the second semi-final.