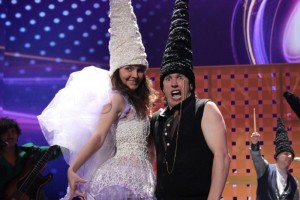 Euro-veterans Zdob si Zdub were back this year, with a song that flies in the face of the several slower songs that have gone before.  It's upbeat and very quirky. 
We only got a couple of run throughs of So lucky this afternoon, as the staging proved to be a little complicated.  The thing that hits you first are the metre-long conical hits most of the band are wearing.  Then we have a girl, in a conical hat, wearing a tutu, on a unicycle, playing a bugle.  In one run through she emerged from a large latticework screen.  This disappeared later, and our young lady came on from the side of the stage.
Our backdrop continues the quirky theme with black and red figures in the aforementioned conical hats spiralling and moving around.  We also had strobing.
After the songs (good or otherwise) that have gone before, televoters and jurors around Europe will sit up and take notice of Zdob si Zdub.