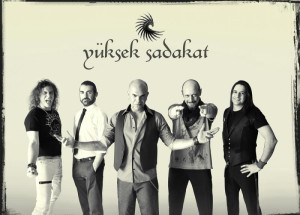 This year's Turkish entrants Yüksek Sadakat will welcome another two participiants, namely Senit and Aurela Gaçe in İstanbul today and tomorrow.
Albanian singer Aurela Gaçe and San Marrinese representative Senit will join Yüksek Sadakat on the Turkish leg of their promo tour. Turkish representative Yüksek Sadakat will welcome the two ladies to İstanbul and they will participate in three different television programmes together.
24th March (23.30 CET) – TRT News / Gün Sonu
25th March (12.00 CET) – Beyaz Tv / Gülay Kuriş ile Life Style
25th March (midnight)   – Kanal D / Beyaz Show
It is also confirmed these three acts will also be taking part in Eurovision in Concert which will be held in Amsterdam, The Netherlands.
Aurela Gaçe (Feel the Passion), Yüksek Sadakat (Live It Up) and Senit (Stand By) will all take part in the first semifinal of the contest on May 10th. Below you can also watch the promo videos of these countries.