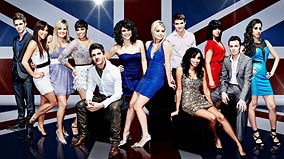 The BBC has now revealed the six acts who will compete for the honour of representing the United Kingdom in Eurovision – Your Country Needs You on Friday 12th March
There are four solo singers, a girl group and a five piece male/female group who have been brought together especially for the show. When all the acts have performed in next weeks show, they will be whittled down to three by a jury. Those three will then perform the song that Pete Waterman has written for Oslo. The winner will then be chosen by a public vote
Alexis
20 year-old Alexis Gerred has always been a keen performer, but has never worked professionally – until now. As a young boy he was very much into acting, but only fell in love with singing when he performed in his school's production of Grease.
He believes his talent may come from his dad, who used to sing in various bands, and has given Alexis lots of encouragement in becoming a performer. Having been brought up listening to likes of Rod Stewart and Freddie Mercury, Alexis aims to emulate his childhood singing icons. Taught to act, sing and dance at the Kent and Surrey Academy of Performing Arts, he considers himself to be a "showman" and has "no passion for anything else."
Esma
Esma Akkilic comes from a Kurdish family, and originally grew up in Austria. She's been extremely outgoing ever since she was a child, and started to sing Celine Dion songs before she could even speak English!
Esma attended theatre school when she was 9 and started vocal training at 14. She's currently attending a sixth form college.
Esma's taste in music is diverse – listening to jazz, rap, hip hop, and r&b as well as German, French, Arabic, Spanish and Turkish music. Esma takes inspiration from the legendary Aretha Franklin and contemporary singer Christina Aguilera.
Josh
19 year-old Josh Dubovie first performed with an after-school stage club, aged just 9. He was given the part of Enjolras in the school production of Les Miserables when he was 15, but as he had never sung before he went to see a vocal coach.
Josh instantly fell in love with singing swing and his coach encouraged him to put on showcases of his music. Josh believes he has his mum's voice and his dad's confidence and he currently performs professionally, at charity evenings, festivals and sports events.

Karen
Karen Harding can remember performing from an early age, beginning when she was 7 by repeatedly singing three songs from a home cassette player! Her parents eventually arranged for weekly singing lessons, but her friends would have to persuade her to sing at Christmas and birthday parties, to a karaoke machine.
Aged 16, Karen won a competition in Durham for unsigned artists and bands, beating 3,000 other applicants to the title. In fact, one of those other 3,000 competitors was last year's 'X Factor' winner Joe McElderry! Now 18, she sings professionally but has not had any formal training since her early singing lessons.
Miss Fitz
Miss Fitz are all-girl trio formed in London, who perform cover songs and give them their own stamp of jazzy, big band-style arrangements.
Marina (25) is a singer and dancer who puts her love of Eurovision down to her father Colin, who read out the UK's voting results on the Eurovision for 25 years. As a young girl she remembers watching with a pad and pen and marking the songs out of 10. She started to sing in public aged 11 when a friend challenged her to perform, but has not had any professional training.
Gemma (27) believes her talent comes from her mum, who was a keen amateur singer and dancer. She took Gemma to her first dance class aged just 18 months, and from those early experiences she eventually went on to train in Performing Arts. She's grown up with reggae music and is a big fan of Motown, 70s disco and Stevie Wonder, and boasts lots of Kylie and Jason LPs in her collection!
Maiken (23) comes from a town just north of Oslo, the host city for this year's competition. She had her first singing lesson aged 10 and ever since then has wanted to make it in the music industry. Moving to London at 19, she later met the other girls at a London audition for a jazz trio, where they decided to carry on as a band.
Uni5
Uni5 have come together as a group specially for the show – will they be our UK famous five for Eurovison?
Amy (18) is a keen songwriter and has sung since the age of 7. She feels she inherited her talent from her mum, who's a music teacher. Amy plays the clarinet, saxophone and piano and often gets together with her mum to perform. She trained in dancing at Sylvia Young Theatre School and her eclectic music taste is influenced by artists ranging from Beyonce and Rihanna, to Ella Fitzgerald and Frank Sinatra. Her current favourite artists include Pixie Lott and Florence and the Machine.
Sam (22) has a history in musical theatre and has recorded two songs for the soundtrack to BBC Two's comedy series Beautiful People. His first job was as one of the workhouse boys in Oliver!, aged 9. He has no idea where he got his talent for from, saying his parents "can't clap in time" and "have two left feet"! He trained at the Sylvia Young Theatre School from the age of 13 – in the same year as Jade Ewen, last year's UK entry.
At school Daniella (19) played hockey and athletics at county level but with the encouragement of her stepmother – a professional dancer – she decided to give it up in order to perform. Daniella studied for a diploma in Musical Theatre at Colins Performing Arts College, learning to sing, act and dance, from jazz and ballet to tap and commercial.
Dani (22) grew-up surrounded by music – her father turned their living room into a recording studio. Dani trained at the Brit School, and followed this by studying dance at the Bird School. Her first stage appearance was in Cats and since then she has had a variety of jobs as well as regularly working as a backing vocalist with her sister.
Lee (25) descibes himself as "a jack of all trades" in singing, dancing and acting. He started to sing at 11, after winning a school competition and was encouraged by his mum to audition for musicals. Lee trained at the Sylvia Young Theatre School and has had roles in Oliver! and the touring stage production of High School Musical. His current favourite artists are Daniel Merriweather and Jason Mraz. He is also a keen sportsman and was captain of the rugby team at school.
Eurovisionary will provide a live update as the show is broadcast so you will be able to know exactly what is happening as it is happening.
Links