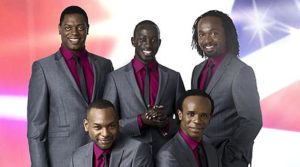 Emperors of Soul were Andrew Lloyd Webber's choice to leave Your Country Needs You, the United Kingdom's selection show for the Eurovision Song Contest. In doing so, he saved Jade, who made her first appearance in the bottom two.
In an evening which saw all the acts sing two solo songs, Mark was the first to sing. He sang an up-tempo song for the first time, Rock Your Body by Justin Timberlake. He demonstrated he could dance as well as sing. While Andrew was impressed, he commented that he felt the genie was still to be completely released from the bottle. Lulu felt he was courageous while tonight's guests, Emma Bunton and Alesha Dixon were also impressed.
Second up was Jade who sang a ballad first, Eric Carmen's All By Myself. She seemed a bit unsure at the start but effortlessly pulled off the big finish. Andrew said her "vulnerability was courageous but brilliant", and added that she will be a diva as a career. Lulu praised Jade for her "good vocal control."
The third act to sing their first song was Emperors of Soul, who kept it simple during their performance of Take That's Patience. Their harmonies were good and they proved that if given the right song, they could do it justice. Andrew repeated his thoughts from a previous show that they might not be sellable enough for Eurovision. Emma said they were better doing something contemporary and Lulu echoed Andrew's comments.
Finally, The Twins, who sang an up-tempo song first, About You Now by The Sugababes. The vocal was a bit shouty but overall, it was a good performance. Andrew thought it was a "pretty good performance" and Alesha described them as "adorable."
For the second song, each act had to do a different style, so Mark, having sung an up-tempo song first, sang a ballad by Rod Stewart, I Don't Want to Talk About It. He had said earlier in the show that the song meant something to him and it showed as he gave an emotional and controlled performance. Andrew said it was his best performance so far.
Jade had to sing an up-tempo song and she chose Think by Aretha Franklin. She seemed more at home than her earlier performance and she sang and danced confidently. Andrew was again full of praise for her and said that she was wonderful again.
Emperors of Soul also had to sing an up-tempo song and entertained the audience with Billy Joel's Uptown Girl. Those who remember the video of the original song will know that it is set in a garage and Billy and his mates sing to a girl passing by. This formed the basis of the stage presentation, which ended with a dancer for each of them. Andrew again repeated his concerns about their suitability for the contest but said what he had just seen would have made a great closing act for a cabaret.
The Twins kept it simple for their ballad, sitting on stools at the start of All I Have to Do Is Dream by The Everly Brothers. The vocals were good, especially the harmonies. Andrew thought they did it brilliantly and that the harmonies are helped by the fact they are twins.
After Graham had spoken briefly to all the acts backstage, Mark and Emperors of Soul went on stage together to sing Elton John's Don't Let the Sun Go Down on Me. Maybe if Mark wins, Emperors of Soul could be his backing singers as this performance showed it could work quite well. Jade and The Twins joined forces to perform I'll Stand by You by The Pretenders. All the panel were asked for their favourite. Andrew said Mark shone, Lulu "loved the boys", Emma enthused that Jade was brilliant and diplomatic Alesha said they were all brilliant.
After a vox pops of the British public telling us who their favourites were, Alesha got the chance to sing her new song and then….the results.
The Twins were declared safe, and Emperors of Soul were told they were in the 'Dangerzone'. That left the two favourites, Jade and Mark, one of whom had to be at risk of elimination from the 'Dangerzone'. Jade was told to gasps of astonishment from the studio audience (and probably at home as well) that she was in the 'Dangerzone', which left Mark safe. Given his earlier comments, it came as no surprise when Andrew Lloyd Webber (who, to his credit, didn't dither or pontificate) declared Jade safe.
Therefore, Mark, Jade and The Twins will contest the final next week, when there will be a main show and a separate results show. The BBC will give details of the voting procedure nearer the time.
Links