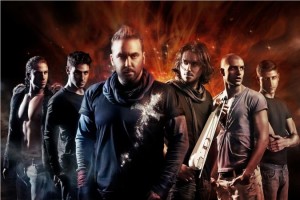 Greece up next and this is going pretty well for Yiorgos and his friends. The stage act hasn't changed at all, but there have been changes to the camerawork.
I'm not sure that Yiorgos is wearing his full stage outfit yet as his white top have a Nike logo on it, which isn't allowed. It looks like they'll all be weaing white. The white doesn't look good in my opinion but it does help make them stand out on such a dark stage.
The camerawork has improved but I think it is highlighting that the dancing is too slow at several points. The instrumental bit with the vinyl mixing is not working at all on camera, the stage is too dark and the lights on their drums are not bright enough.
There's also a problem where they bang they drums down on the stage in time with the beats. The dancers just aren't synching it properly and it doesn't look as good as it could.
This will probably do pretty well, it's definitely qualifying, but it does need a good bit of work still.