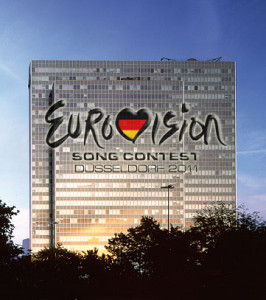 It was announced yesterday, that Düsseldorf would not only be home to the Eurovision Song Contest 2011 but also home to the largest television screen in the world, projecting onto the side of a building screening several live broadcasts of the Eurovision Song Contest 2011.
The Eurovision Song Contest 2011 will not only be broadcast to 130 million viewers in their homes but also to the city of Düsseldorf through the Thyssen Hochhaus building, one of the largest steel producers in the world.
During the 4th to the 14th May, the screen will fill the entire building at an incredible 6,300 square-metres, which is viewable from as far as Oberkassel, the opposite side of the district in Düsseldorf. The sheer size of the screen will potentially allow an additional 39,500 Germans to view the contest outside of their homes. It will take approximately 30 enormous projectors to give life to the television screen. Not only will Düsseldorf be able to see the events on the screen, but also 3D effects including pyrotechnics will accompany it. In addition, a custom designed radio station will be used and a specially made application for smart phones.
This brilliant announcement means Düsseldorf will offer a unique and one-of-a-kind experience for the Eurovision Song Contest and the world.
Links
Thyssen Skyscraper Becomes The Giant TV
In my view
I feel this is an excellent idea of Dusseldorf to incorporate the contest with the public and fans. It will not only be a memorable experience but a world record breaker as well!

The opinion expressed in "In my view" are those of the author and are not necessarily the one of EuroVisionary.com.